In Russia test reconnaissance tiltrotor with the drone "Era-50"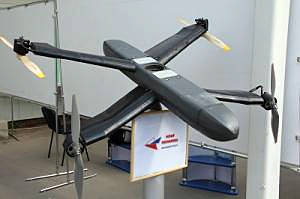 The complex of aerial reconnaissance and surveillance with an unmanned aerial vehicle (UAV) convertible plan is created in Russia, reports
INTERFAX.RU
.
"Recently, factory tests of the Era-50 UAV have been successfully completed. The complex is ready for joint tests," Eldar Razroev, chief designer of New Technologies, told Interfax-AVN.
According to him, "negotiations are underway with a potential customer for conducting joint tests with him."
"After the joint tests at the first stage, the complex is planned to be refined according to their results and customer requirements," the chief designer added.
He did not specify what kind of structure the negotiations were going on, noting that "after the completion of the modifications, the stage of state tests will follow, but it's too early to speak about the time frame for them."
The devices of a convertible plan combine the features of an airplane and a helicopter. They can take off vertically or hang at a given point and quickly move to a horizontal flight. Earlier it was reported that the Russian Defense Ministry shows interest in devices of this type.
According to E. Razrojev, the company is developing two types of converters - "Era-50" weighing 5 kg and "Era-100" weighing 20 kg.
"In 2014, it is planned to begin small-scale production of complexes with Era-50 UAVs and, after the full development of this complex, return to finalizing the automatic control system
drone
"Era-100", - said the source of the agency.
He recalled that the convertible "Era-100" last fall was demonstrated at the exhibition "Integrated Safety" in Moscow. The convertoplan is equipped with four electric motors with 2700 watts each. They are located at the ends of the consoles and set in motion four two-bladed propellers. Since the UAV is built according to the convertoplan scheme, all four propeller-driven groups are made rotating on the wing.
Normal take-off weight of the new BLAH 18 kg. Maximum - 24 kg. Payload Mass - 2,5 kg. Maximum speed - 230 km / h. Flight range - 120 km, time spent in the air - 1 hour. Convertoplane length - 1,3 m.