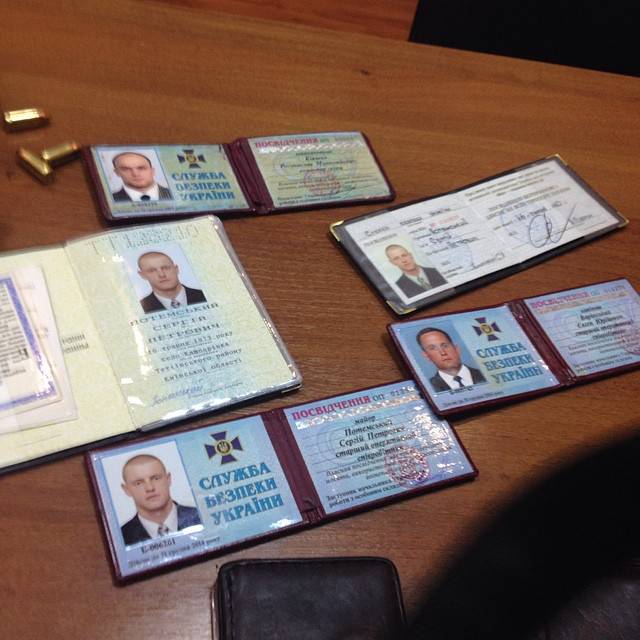 In the Donetsk region, the people's militia captured three special forces officers of the Security Service of Ukraine (SBU), who arrived from Kiev. Their tasks were the reconnaissance and abduction of one of the leaders of Donetsk self-defense Igor Bezler, I inform you "
NEWS
".
The head of Slavyansk self-defense, Igor Strelkov, said that all three detainees were officers of the Alpha special forces unit of the Security Service of Ukraine. Their military ranks are lieutenant colonel, major and captain. The officers were captured during a combat mission aimed at capturing members of the Donbas militia in the city of Gorlovka. The detainees were brought from Gorlovka to Slavyansk, ITAR-TASS reports.
According to Igor Strelkov, in the future they will either be exchanged for militia officers who are captured and taken to Kiev, or they will remain in Slavyansk until the situation is resolved.
The representative of self-defense Yevgeny Gorbik clarified that the special group of the SBU arrived to capture one of the leaders of Donetsk self-defense Igor Bezler - "the person holding ATC Gorlovka." "Bezler, as always, captured those who hunt him, and brought them here. And so it will be with everyone - the qualification is low, the courage is zero," - said the militia.
In war as in war. The militia of Slavyansk does not exclude the possibility of exchanging officers of the Ukrainian General Staff, who were detained yesterday, for their comrades-in-arms, who were arrested by the junta. True, there is a very big chance that the junta does not recognize the officers as their own or will not consider them valuable enough to exchange.

In addition, now, under the Slavyansky, the "anti-terrorists" are starting to have a tangible internal problems - it is already very well known that the special unit of the SBU "Alpha" refused to take part in the recent unsuccessful storming of the city - not so much because of ideological differences, but because They wanted to use them like ordinary motorized infantry in the advanced order.

One way or another, but another rebellion is evident, and now something needs to be done with it. The junta has only a few units that still retain, if not loyalty, then loyalty, and something needs to be done about it. Only that - nobody understands.