15 paratroopers landed near the Volodarsky mine, which has stored large reserves since Soviet times
weapons
since the First and Second World Wars, reports
RIA News
.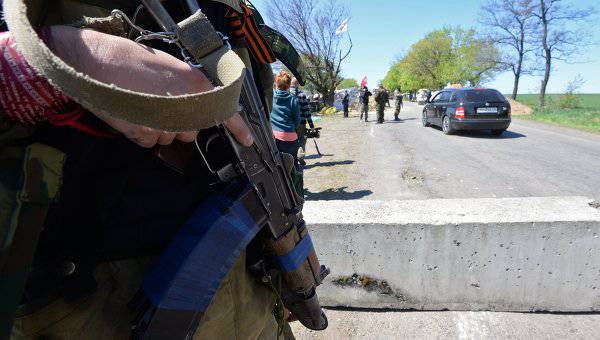 The landing of the Ukrainian army, destroying the militia checkpoint and capturing a prisoner, retreated from the battle site near Soledar, reports RIA
News
from the scene.
In the evening, near the roadblock, which blocked the road from the route Kharkiv - Rostov to the Volodarsky mine (10 kilometers from Soledar, 40 kilometers from Slavyansk), paratroopers landed from a helicopter. According to eyewitnesses, they were 15 people. Since Soviet times, large stocks of weapons from the First and Second World Wars have been stored at the mine. According to experts, there could be from 1 to 3 millions of weapons. The task of the roadblock was not to allow the National Guard to the warehouses.
At the checkpoint at this moment four people were on duty, all without weapons. Having wounded one militiaman, the attackers took two prisoners. However, one of them on the way to the helicopter managed to escape and escape. The other two militia also fled.
To the place of the battle, miners began to flock from the surrounding mines, many of which support the idea of ​​federalizing Ukraine. The miners armed themselves with shovels, crowbars and pipes. Seeing the miners, the attackers preferred to dive back into the helicopter and fly away. They fired several shots into the air.
Now about a hundred local residents have gathered at the battlefield, there are calls to restore the checkpoint in order to prevent Ukrainian soldiers and employees of the National Guard from entering the mine. Data on the dead has not yet been reported.