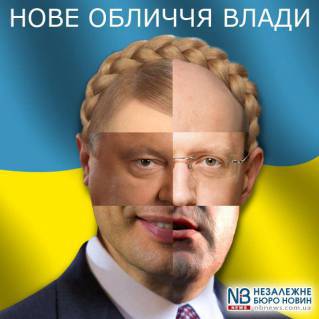 Who is "not a stranger" and what kind of advice you ask? Lenin, probably, in the Mausoleum smirks. So, the author of this article is a native Kiev resident, a former citizen of the Soviet Union, and then an independent Ukraine. The last twenty years he lived in North America - the USA and Canada; now he lives with his family in Toronto, his parents and other relatives stayed in Kiev. By education - Master of Economics and an information technology specialist.
What is happening in Ukraine now hurts. Caring read and discuss
news
"From the land" as military reports, with fear and hope. Surely many will think: yes, that he can advise from there, and in general know - there, behind the hill? We here all see with our own eyes.
I beg to differ. Face to face does not see, but access to information sources in the West is much more extensive - through the Internet, on television, etc., from all participants in the events, including local CBC, CNN and others.
In the thick of things, everything that happens is perceived emotionally and sucks, of course, with the help of the media. On emotions, and not on logical analysis, there is a public opinion that quickly gains momentum and drives people into positions that are difficult to change afterwards. I draw attention to the word "position" - this is not the same as national or even personal interests. Let's come back to this later.
For example, the majority in Kiev believes that Yanukovych is a bastard who suppressed the will of the people, plundered the treasury, he is also the patron of raiders, the gangster, etc. - well, in general, there is no place to put a seal. At the same time, for some reason, few people wonder - what has annoyed Yanukovych personally with me? That is, how personally is he, Yanukovych, the actions hit my wallet and my life against the will of my elected deputies and my government? For the sake of interest, try to answer, just honestly, for yourself, and not for everyone, and for that guy.
I agree that Yanukovych is rare ... but not because "everyone knows this, he ordered people to shoot and sent raiders." Who personally heard these orders? I just saw live reports about how unarmed explosives with shields were bombarded with cobblestones and combustible cocktails. I think they didn't like it very much, but they put up with it and went - so the order was, but of a different content. Who sent these snipers there? Certainly not Russian and not Yanukovych, why is it? To Yatsenyuk and Turchinov came to power instead? We need to find out who benefits from this, i.e. establish the presence of three factors - means, opportunity and motive. The caliber of bullets was clearly not Berkutovsky (unless they switched to NATO in advance); they had opportunities before that, but they did not use them, and snipers shot at them the same, i.e. the motive is completely absent. Yanukovych's wines are different - he, as a leader, was responsible for the country entrusted to him and allowed her to reach the brink of an abyss under his strict guidance, no matter how or why.
But let's move from individuals to logical analysis and try to put ourselves in his place. What did he, as a manager, have to deal with? From the economic point of view, when imports exceed exports by a third, and a substantial part of the budget goes to subsidies for communal services and social security of citizens, the country does not live within its means. The United States can afford it, as long as their currency is trusted and they control its emissions, but not Ukraine, especially if it stops trading with Russia. It's easy to get used to a good, even tolerable life (I'm speaking as an emigrant with experience), especially if you are convinced that it's good because we deserve and earned it, unlike the Russians, because we have European values ​​and no Putin. But if we buy more than we sell, where does the currency come from to make up the difference?
In most developed countries, communal services, police, urban transport, local roads are maintained by municipal or local authorities, mainly due to real estate taxes, which are paid by everyone except churches and government institutions. In Ukraine, there is actually no such tax. Medical support and pensions also come at the expense of the budget. But where to get the money if Kiev strikes for months and nobody across the country pays taxes? If the cost of fuel exceeds its consumer price, then who pays the difference to industrialists and consumers?
After Tymoshenko signed gas agreements with Russia, Ukraine's economy was doomed, collapse became a matter of time. It is surprising how quickly she was forgiven for this disastrous step and forged signatures. After the February coup, the lack of funds in the budget caused a shock. Well, clearly, Yanukovych stole and took with him in a government bogie. As soon as got all? And where did the Ministry of Finance, auditors, committees of the Rada look?
Do not think that I exaggerate the importance of the economy: the Soviet Union collapsed precisely because of it, it was not within our power to pull 70% of GDP on the commissariat. The people felt it in everyday life and rightly wanted a better life. Alas, this prospect does not care about the new government of Ukraine - just to make it through to the elections, and there it will be possible to write off everything as force majeure.
On the "escape" is also worth mentioning. Personal courage has not historically been a strong suit of the guarantor, but when it comes to life and death, someone, like Salvador Allende, remains and dies, by and large, without much benefit; others are fleeing to save lives, like the Hetman Skoropadsky in his time. Yanukovych still found the strength to continue his work; the hetman didn't bother much, left everything and everyone to the mercy and dumped him to Europe.
We finish, however, the excursion into
history
. What happened in terms of macroeconomics and geopolitics? In fact, Yushchenko began a quarrel because of gas with Russia, which predictably resulted in the construction of two bypass flows and a solid increase in the price of gas for Ukraine. Those. laid a mine under the country's budget, which in a contractual manner secured Tymoshenko with its agreements with Putin and Gazprom, setting the country on the path to bankruptcy, impoverishment of the people and the collapse of the industry.
In such a situation, the country sooner or later has to borrow abroad. Bankruptcy ultimately leads to the establishment of creditors control over the economy of the country. Who will give the money, he will order the ball. There are few candidates for creditors: the IMF and the USA (which is basically the same thing), Russia and the European Union. The West is now offering large sums, if only the new government kept the chosen course. They just forget to mention at what interest they are ready to provide and explain how much it will cost every Ukrainian to lose jobs, raise prices for utilities, drugs, food, fuel, as well as in pensions, etc. Essential assistance in practice has so far been provided only by Russia, under friendly interests and without marauding conditions (of course, there were political conditions, but there can be no other way in the modern world). Interestingly, the current government has managed to embellish even the latest gas discount - due to non-payment on time. Was this not a priority? Something is hard to believe, rather, it is a continuation of the same policy - to put Ukraine in complete dependence on the United States (the EU has no extra money, it's enough for Greece for the eyes).
After the coup, a trio came to power, which the people did not choose. People who believed and supported the Maidan, were announced on the list of the new interim government - in general, they were "divorced". About the competence of this government, as well as the overwhelming majority of Ukrainian politicians, I will not spread, they are even inconvenient to compare them with Russian colleagues, given the rich experience and school inherited from the USSR. Neither Turchinov, Yatsenyuk and associates have neither the skills nor the management experience at this level, so they cannot do without the help and instructions of more experienced players. Judge for yourself how government actions can be perceived from the outside.
The first "exploits" of the temporary workers after the coup - the release of Tymoshenko and the abolition of the law on languages ​​- it is clear who is in peak. Who in Ukraine this law prevented? Interestingly, all the deputies who voted for him under Yanukovych almost unanimously voted against. What, the elected representatives of the people were afraid? Then, however, the law won back (apparently, the more experienced comrades advised). But the troops in the Crimea were not given any instructions for a week, while politely people very competently and professionally isolated those. Maybe they hoped that someone would not stand and pull the trigger in order to "show the bestial face of the invaders" and enlist Western help? The military, perhaps, would have defended the Crimea, but only every soldier understands that a shot without an order is a crime that could result in moving to a government residence, and in this situation also a sharp deterioration in health. The military has a long memory. If, God forbid, ordered to shoot at the crowd of workers "terrorists" or the Russian military, the servicemen will quickly remember what it was for the Berkut for conscientious execution and figure out how to deal with them later.
Following the chronicle of events, instead of thinking about economic recovery, the government announces mobilization. Everyone understands that the war with Russia, God forbid, will be very short and suicidal for the Ukrainian army (more precisely, that part of it that does not desert, will not refuse to fight, or even raise a tricolor - judging by the Crimea, there will be many of them). That is, military-liable men are removed from production (by the way, many, as it turns out, have lost their jobs because of this) and put on the maintenance of a state that already has no money. The trench at the border is a brilliant idea. Surely from
tanks
protect, as in the 41st near Moscow.
An even wiser initiative is to limit entry for Russians to Ukraine. All those who need it, have long been there, they are not hindered by border control. But now, if the Russians answer "symmetrically," no less than a million citizens will be very unhappy when they are expelled from Russia. I think it's just as easy to get through to work in the European Union not soon. This suggests the idea that a substantial part of the population is thus wanted to return home, depriving them of their means of livelihood, and to send their discontent towards Russia - this is after all its retaliatory sanctions.
And what to do with the "Right Sector", which, according to my parents, jumped out onto the Maidan at the very end like the hell out of a box? We organize them in the National Guard. Without proper preparation, it will certainly stop the Russians, and at the same time save the economy. We have rich traditions of the Makhnovshchina, so why limit ourselves? These warriors once rolled tanks in an open field.
But the greatest failure of the government, of course, is not that. The main breakdown is that they have thrown off from the accounts of those residents of the Southeast who were originally or were against the coup. No one listened to them, and in general was not going to talk, appointing the oligarchs to the governors (no one was surprised that they were immediately christened Gauleiters, and the National Guard, respectively, can be considered punitive in fact and substance). Given the example of the Crimea, the Southeast was actually pushed into the arms of Russia as the sole source of support.
The unequivocal manifestations, which can not help but resent the Russians and terrify the inhabitants of the Southeast, and indeed all sensible people, are approved and not stopped by the government (I do not want to offend anyone, just read blogs and comments on English-language publications on the Internet, people see everything and understands). Remember the "mosklyaku on the gilyaku" and Rada, who approvingly yelled at him in reply "Glory to the Heroes!"; swastikas on the flags of the "Right Sector", as well as vigorous jumps of the youth, chanting "why not us, that Moskal!"). Well, it's understandable with young people, they grew up after the dismemberment of the USSR under nationalist nonsense and don't remember what a tragedy its disintegration turned to for the majority of Ukrainians and what working people lost (at least, all savings, social guarantees, and you can't list them all). Give them another slogan, like "Who is not with us, that mu ... ak", I think, there would not be much difference. Another terrible thing is that many there consider it a joke. Is it really necessary to wait for these young men and women to put on the same shirts and arrange a night procession with torches and pogroms to get it? But this is not all - remember the stone physiognomy of Turchinov and Yatsenyuk, who promised to imprison and punish all separatists and enemy agents. It is clear that all this gives Russia the opportunity to talk about the threat to the Russian-speaking population of Ukraine. And this, potentially, is a reason for intervention - doesn't the government really understand this? In general, oil painting.
I am sure many participants of the Maidan are already thinking, but was it worth it to start all this? After all, this is not the end. The continuation of the "anti-terrorist" operation is a direct path to a civil war, which, perhaps, has already begun and can flare up from day to day. As a boy, I was briefly acquainted with the current head of this operation, Vasily Krutov, in the sports line (who would have thought that the world was so small). Then, during the Union, he made a strong impression on me as a person, a fighter and a professional. I do not think that he, a personnel officer, will be able to fight against the people - God forbid that he walk out of this story with honor and without blood on his hands.
So is there a way out of all this? Of course have. However, to implement it, you need to take a few basic concepts.
The first, and perhaps most important, is to learn how to distinguish patriotism from nationalism. The difference is that the patriots want the prosperity of their country and people, while the nationalists praise and oppose their country over others, regardless of whether it is for their own good or harm. Patriots may have opposing beliefs, but will always listen to the opinions of all in the name of the Motherland. A nationalist, by contrast, is always right by definition. So, Bandera, Melnikov, Bulbashi, SS from Galicia and other evil spirits are nationalists, who by their actions lead the country to a quick death. Patriots are ready to listen to all parties to the conflict, to negotiate and find solutions to save the nation.
Contrary to Obama, you need to realize that Russia is a global player with global interests and opportunities, and Ukraine is a regional player who is needed by the West as a market and source of cheap labor (for example, to assemble Boeing or Airbus at Antonov's factories for a third of the cost). The United States is far from helping - inciting and collapsing, think of Georgia. The European Union with Russia will not quarrel over Ukraine, there's no need for conflicts on the border or an extra poor beggar. There is enough of the Czech Republic and Romania - and that in the presence of oil does not really zhiruet. Sanctions of the West of Russia, by and large, on the drum - the dog barks, the caravan goes. Russia is self-sufficient, and it has enough reserves in Asia not to need Europe.
Let's admit that Russia has a reason for distrust. Throughout the entire period of independence, the Ukrainian government behaved not as an ally and partner, but as an employee of the oldest profession. Recall the section of the church, Yushchenko's fiery speeches at a rally in Georgia at 2008, his attempts to ban Russian ships from their own military base (for a military mission in wartime!) Add joint NATO exercises and advertisements in the media, Bandera's heroization and other rag-tagging, throwing Yanukovych between the Customs and the European Union ... On the issue of patriots - I hope everyone understands that they fought with Bandera, mostly our Ukrainians, and not "Muscovites" (which, in literary Ukrainian, means "soldiers ", And not at all" Muscovites "or generally" Russian "). My grandfather was one of them. People like him were patriots who fought for their homeland against the nationalists who led it to death.
Make up your mind. Analyze and compare media reports - believe me, their tendentiousness is visible from the outside, without exception. For example, those who speak of Russian special forces in the eastern regions do not understand that if they saw him and write about him, then this cannot be special forces. Spetsnaz is when a military column is beheaded right before an operation, which is forced to be postponed because of this, and no one knows who or how did it.
Russian sites reprint materials from each other and hardly understand everything that is happening in Ukraine. Especially get their patriots and political analysts with their opinions. The Ukrainian news, however, claims objectivity, but they wishful thinking and play on patriotism, ignoring the fact that thousands of people don't come out for demonstrations just like that or even for money - no special services have enough money to bribe so many people. And why ban Russian channels? If they lie, then let their foolishness be visible - to know, sometimes they convey the truth, once annoyed.
Do not demonize Russia and Russian. As before about Yanukovych, ask yourself - what did Putin personally annoy me with? Who says he is a freak, I have not yet proved it to me personally. Energy resources in Ukraine were cheap thanks to Russia and Putin, workers were paid thanks to orders from Russia. Maybe he is bad because he divorced his wife and has mistresses - this is his private business, it is already good that he is physically capable. That he is a secret billionaire - so I did not count his money and did not see evidence of his theft. But on the other hand, for his time in power, he increased the budget of Russia several times and returned to the people the national pride that had been outraged by Gorbachev and Yeltsin. He crushed the opposition - this is the business of the Russians, who they want, they vote for it. But he is the only politician who says (not loudly, but clearly) what he will do and why - and then he does what he says. Therefore, any politician in the modern world can only dream of his ratings. I don't know if I would have voted for him myself, well, he's not imposing himself on Ukraine, I hope everyone understands that.
Next, you need to understand that in any negotiations it is more profitable to focus on the interests of the parties, and not on the positions they occupy. If we talk about positions, for example, Ukraine will declare that Russia cannot dictate language policy to Ukraine, and Russia, on the contrary, that it has every right - it will be difficult to agree. But if we are talking about interests, Russian can easily be the second state in the choice of regions. And Russia does not dictate, and the Ukrainian one does not infringe, the interests of all parties have been achieved.
Ukraine is a red line that Russia cannot cross. Russia's main interest is national security. Russians need guarantees that Ukraine will not join NATO and there will be no enemy bases on it. One can argue that this is an internal affair of Ukraine, but Canada or Mexico would only try to place a Russian military base on its territory. What do you think the US would do about this?
In addition to security, Russia will not allow Ukraine to fill up its market with duty-free European products. Russia will not tolerate anti-Russian propaganda, "alternative" interpretations of the history of the Second World War, the glorification of the OUN and UPA and the inequality of the Russian language. Russia, in principle, will not abandon "its" - carriers of Russian culture in Ukraine. Russia does not want to dismember or seize Ukraine, because the other half will definitely be in NATO and some missile defense will appear on it, aimed at "against Iran." Russia needs a whole Ukraine, with the guarantee of non-alignment with NATO and friendly politics. On this account, I recommend watching the interview with Jacob Kedmi on youtube, much will immediately become clear.
What does Ukraine need? Ukraine is a neutral country, which, due to its position, can become a strategic hub connecting Russia and further all of Asia with Europe, with all the ensuing benefits. Ukrainian goods go to Russia, especially for industry and the military industrial complex; Ukraine gets what it does not have - fuel - at preferential prices, as well as technologies and products from Russia and Europe, not to mention all the benefits from the transit of goods. For a visa-free regime with Europe and the possibility of earning there by citizens of Ukraine, it is not necessary to join the European Union, you can agree on this separately, as well as on the compliance of legislation with European standards. In Ukraine, they say, "laskay calf two mothers sse", which roughly means that a good calf sucks two mamok - why not? Perhaps federalization is a good compromise, perhaps there are others - but we need to talk about this with the people in all areas and regions, without threats and shooting.
In this case, it is not necessary to discount the interests of the trinity, temporarily in power. They understand that in case of defeat they all hang on one bitch. Therefore, they will go to the end, right up to the call for foreign intervention. And when they get there, they will ask for asylum in the USA, since they have enough money for a sweet life over the hill. To negotiate with them will be very difficult. The results of their activities "hit" very soon, it will reach everyone, but it will be too late.
One way or another, it's necessary to decide now - until blood has flowed. However, judging by the latest news, even now it may be too late.