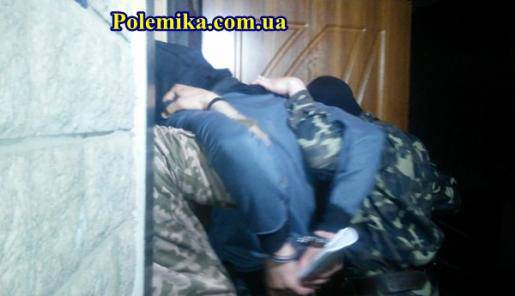 Tonight, the first meeting of the election of a measure of restraint to the activist of the St. George protest Ignat Kromsky, better known as "Topaz" after his detention in Donetsk, was held in the Kievsky district court of Kharkov. This is the correspondent of controversy. The meeting was scheduled for half past night, and of the three lawyers of Kromsky, the investigator only notified Alexander Shadrin.
The arrived journalists of the Controversy and RenTV in violation of the principles of legal proceedings and the norms of the Code of Criminal Procedure were not allowed by unidentified persons to the court session, simply locking the metal entrance door from the inside. There were more than 20 police officers in body armor on duty inside the court yard. Kromsky was brought to 00.35 through the central entrance with a black bag over his head, and his detention was in his hands twisted behind his back.
At the court hearing, lawyer Shadrin challenged the investigating judge Svetlana Kolesnik Svetlana, arguing that this was a gross violation of the rights of the detainee and the rules of the Code of Criminal Procedure. The lawyer said that according to the protocol of detention Kromskoy was detained in the city of Donetsk about 10 hours of 25 in April and taken to Kharkov. The lawyer stressed that during the arrest of his client and the court session numerous legal violations were committed.
"The Legal Aid Center was not notified of the arrest either in Donetsk or Kharkov, Kraska did not have a confidential meeting with a lawyer, and the lawyer's repeated requests to present such an opportunity, the judge refused. In this connection, the defense was forced to challenge the judge, "Shadrin told reporters.
Note that after talking to journalists on the street, an unidentified tall man in black clothes and a mask did not allow lawyer Shadrin into the courtroom. However, the lawyers still managed to persuade the man to miss it.
So without waiting for the new judge (after the disqualification of Judge Kolesnik) around 3 hours of the night, the prosecution representatives unexpectedly left the courtroom, after which Kromsky was taken out with a bag over his head, presumably in the ITT (temporary detention center) located on ul. Ivan Kamyshev. A repeat trial, presided over by a new judge, is scheduled for April 26.
Recall, Ignat Kromsky is suspected of committing a crime under Part 1 Art.294 (Mass Riots) of the Criminal Code of Ukraine during the events of 1 in March, when, after a large rally, Kharkiv citizens liberated the building occupied by Euromaidan and Right Sector fighters. 22 April Topaz escaped from house arrest. As Shadrin, a lawyer, told the Controversy correspondent, Kromsky had reason to believe that he was threatened - so unknown persons, allegedly evromaydanovtsy, used up the entire entrance and doors of Kromsky's apartment with offensive inscriptions, including those with threats.