Roadblocks of the Ukrainian army conducting a special operation in the east of Ukraine, appeared on Friday April 25 in the immediate vicinity of Slavyansk, the correspondent reports
RIA News
.
If earlier the Ukrainian military and special forces of the Security Service of Ukraine and the Ministry of Internal Affairs preferred to be based in the neighboring Kharkiv and Dnipropetrovsk regions, then on Friday they erected their checkpoints near Slavyansk, which is still fully controlled by supporters of federalization.
So, the Ukrainian block post from concrete blocks was erected in the village of Dolgenkoe of the Slavyansk region on the highway from Slavyansk to Izyum. For the construction of the roadblock, which was carried out under the protection of armored personnel carriers, a construction crane was used. There is also an accumulation of Ukrainian military equipment in the area of ​​the village of Dolina on the highway between Slavyansk and Svyatogorsk - 25 kilometers north-west of Slavyansk. There are several armored personnel carriers with Ukrainian flags and machine-gun crews. Apparently, they moved here from the city of Izyum in the Kharkiv region, where considerable forces of the Ukrainian army are concentrated. Similarly, a roadblock in the village of Malinovka along the Kharkov-Rostov highway in 15 kilometers south-east of Slavyansk looks like.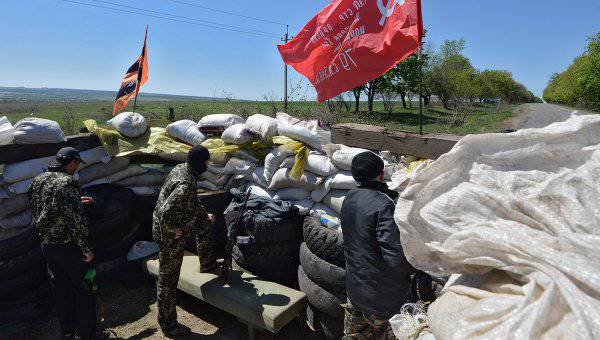 The fourth checkpoint was destroyed during a special operation in Slavyansk in the east of the country, the report said on the website of the Ministry of Internal Affairs of Ukraine
"As part of the antiterrorist operation, by attracting forces and means of special forces of the National Guard, the Ministry of Internal Affairs, the Armed Forces of Ukraine and the Security Service of Ukraine 25, the illegal checkpoint of separatists in the village Cherkassky at the entrance to the city of Slavyansk, Donetsk region was unblocked and destroyed," the statement reads.
Earlier it was reported that during the special operation in Slavyansk three roadblocks were destroyed, the death of five militiamen was also reported. The Office added that the forces of the Ministry of Internal Affairs units have equipped and strengthened a roadblock for serving the Ukrainian military on the route Izyum-Slavyansk.