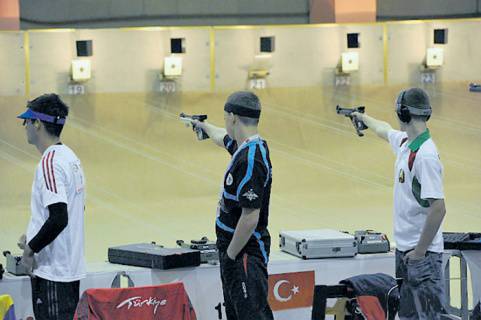 From 24 to 29 in March in the Finnish city of Sodankylä, the 52 World Championship of the International Military Sports Council (Council International du Sports Military - CISM) was held in ski sports. Competitions were held on biathlon, skiing, alpine skiing and ski orienteering. Military athletes from 25 countries participated. 18 award sets in individual and team competitions for men and women.
Representatives of the Russian Armed Forces participated in competitions in biathlon, ski racing and ski orienteering. Total 19 athletes who won 7 medals: 4 gold, 1 silver and 2 bronze. And for the first time, our team took the second team place after the French team, which won 15 medals, including 8 gold. The third was the sportsmen of the Bundeswehr with 2 gold medals.
It is noteworthy that the Russian army athletes especially distinguished themselves in ski orienteering - a very specific military-applied sport. Captain Edward Khrennikov (CSKA, Moscow) and ensign Tatyana Kozlova-Rvacheva (ZVO) won two gold medals in team and individual competitions. And Ensign Tatyana Vlasova (CSKA, Moscow) - "gold" and "silver." Ordinary sports company from Balashikha near Moscow Alexey Slepov and Alexander Loginov deserved bronze medals in the biathlon team sprint.
In the shadow of the Olympics
Winter Championship SIZM was in the shadow of the Olympics in Sochi. The media did not actually notice him. And in vain. For these games, the team of the Armed Forces of Russia for the first time took second place, leaving behind strong teams from Germany, Austria, Norway and Poland. At the same time did not participate in the ski competitions. It is particularly noteworthy that our warriors, both men and women, performed most successfully in ski orienteering. Including athletes directly from the districts, not only from CSKA.
Policy SIZM - the development of sports is military, militarized. So that the games of the servicemen do not duplicate the Olympic. So that not only professionals in uniform, but also athletes directly from the troops took part in them. From this point of view, ski orientation is not inferior to the importance of biathlon, which also includes the race of ski patrols.
The International Military Sports Council, SIZM, was established in 1948 in Nice, France. Among all the sports organizations in the world, he is the third largest after the International Olympic Committee and the International Sports Federation of Universities, and the World War Games held by him every four years are second only to the Olympics and the Universiade.
Currently, SIZM unites 133 sports organizations of world armies. Prior to the dissolution of the Warsaw Pact organization, the army of the countries of the socialist camp united the Sports Committee of the Friendly Armies (SKDA), starting from 1958, once every four years, held its competitions, which were called Games of the friendly armies.
The first Olympics of friendly armies was opened in 1958, in Leipzig (GDR). Competitions on 12 sports were held in 19 cities of the republic, and nearly a thousand and a half army athletes from 12 countries participated in them. However, these competitions became regular since 1969, when the II Games of friendly armies took place in Kiev. Subsequent events were held in Czechoslovakia (1973), in Cuba (1977), in Hungary (1981), and Poland (1985). Between the summer Games and the winter.
After the collapse of the social camp and the Warsaw Pact, SIZM was able to become a truly global organization of warrior athletes. But the Games of friendly armies continue. Only now the full name is: Games of friendly armies - the CIS countries. However, in 2012 for the first time in the Olympics, held in Astana, a team from abroad took part - the army team of the Republic of India. This year, the XI Games will take place, which was counted in 2000, when the first one took place.
In the International Council of Military Sports, the Armed Forces of Russia were admitted to 10 in May 1991 at the 46-th General Assembly of SIZM in Tanzania. Since then, Russian athletes have taken part in the 161 World Championship SIZM in 25 sports. In addition, they participated in I, II, III, IV World Military Sports Games, where they always occupied the first team place.
Unfortunately, during the reformation of the Ministry of Defense of the Russian Federation, military sports suffered heavy losses, and for several years army athletes did not participate in competitions held by SIZM. In particular, there was no our team at the V World Military Sports Games in Brazil in 2011. But now our athletes are preparing for the 2015 games of the year and are determined to become winners again in the team event.
Games are held every 4 of the year for 26 Olympic sports and 6 military applied. Among the Olympic are such "combat" types as boxing, freestyle and Greco-Roman wrestling, judo, taekwondo, fencing, shooting, modern pentathlon, equestrian and sailing. And here is a list of winter sports: biathlon, alpine skiing, cross-country skiing, ski orienteering, climbing (indoors), ski mountaineering (ski touring), short track.
SPORT IN MILITARY FORM
In addition to ski orientation, the following military-applied types are cultivated in the SIZM:
aviation
pentathlon, military pentathlon, sea pentathlon, parachuting, orienteering and special swimming (rescue sport). Skydivers have a separate world championship. The remaining military-applied types are included in the World Games. This is the principal installation of SIZM on the development of military-applied types in the interests of the armed forces of all members of the organization.
The international military aviation pentathlon consists of two stages: aerobatics and sporting events. Pilotage is carried out on a jet plane with a crew of two people. It includes a triangular flight over a distance of 300 – 400 km at an altitude of 200 m (+/– 50 m) with a ground target attack when turning. It is considered a separate type of competition and does not go to offset sports program. For certain technical reasons, aerobatics competitions may be canceled altogether.
Sports competitions in the framework of the military aviation pentathlon are held in the following disciplines: shooting from a large-caliber pistol (revolver) at an emerging target; swimming on 100 m with obstacles; fencing; basketball test (4 ball exercises); obstacle course and orienteering.
The international military pentathlon is shooting from a standard 6,0 caliber rifle or 7,62 mm to 200 m from a prone position (two series of 10 shots); overcoming the obstacle course SIZM (500 m); swimming 50 m with obstacles; throwing 570 g grenades on accuracy and range; Cross 8 km. In women, the exercises are the same, only the weight of the grenade is 370 g, and the cross is 4 km.
International Naval Pentathlon - obstacle course (300 m, women - 280 m); race for survival; swimming in the pool; seamanship; amphibious cross 2,5 km. A very specific sport, not everyone can. Performed in military uniform. The race for survival is held in the pool. You need to swim under the water 20 m, then freestyle 25 m, dive and lift from the bottom of the dummy weighing 30 kg, and then tow it 25 m.
Swimming is also not easy. You can swim in your own flippers, but it is necessary to overcome surface obstacles. Moreover, 25 m should be sailed with a three-kilogram mock-up of the machine gun, and even dive and disconnect the fire hose at the bottom.
Marine practice is generally something unimaginable. Among other things, you need to climb on the mast height 10 m, put on top of the five landmarks. Then you need to pull, throw and tie the towing cable. And finally, get into a boat, round a series of buoys in a certain pattern, remove one 10-meter chain from one and transfer it to another, remove the bracket and finish.
After this, it is clear that the amphibious cross is not riding on an amphibious vehicle. This march on 2,5 km in military uniform and with a gun. Along the way, you need to shoot a rifle at the targets, float 50 m back and forth on a rubber boat, throw 6 once a grenade on 25 m and get into a two-meter circle. Every slip from a rifle or throwing a grenade is punishable by a penalty circle. These competitions are held 4 – 5 days, one per day. Here it is, a real military sport. Participate in such competitions very often athletes from the troops, and not from the clubs.
NO PEOPLE OF NON-ALALATED
It is clear that the competition SIZM shows not only the level of army athletes, not only the qualitative development of military sports in each country. Indirectly, the results of the competition show the level of all armed forces, combat and physical fitness. And for small countries, "appearance" is very important.
Alexander Shchepelev, head of the department for military-applied, professionally significant and extreme sports at CSKA, says:
- Recently, in SIZMM taken around 40 countries in Africa. And the servicemen are really communicating, developing, learning a lot about what is happening inside each army, how much time is allocated for sport in the country, for the development of physical culture. All other interactions are built on these principles of a healthy lifestyle, training of military personnel.
- Here the question immediately arises: in some countries there are actually professionals, and in some small, obviously, amateurs. Professional military sport in many countries there? And such clubs as CSKA?
- CSKA is a unique, single club in the world that cultivates around 37 sports. So much even in the civil clubs do not. The training of athletes in Europe is very well organized. But all physical training is built on the interaction with civic clubs and coaches. Regarding professionalism. If you take the conditions of service or the structure of training in Switzerland, Austria, they each have been in military service for 10 years. Every year he spends one month in military service. Gaining, therefore, 10 months of mandatory service. And he all 10 years is a military man. And of course, since he is a military man, he participates in all these sporting events TISM.
- In addition to the World Games, summer and winter, what other major competitions holds SIZM?
- Pass championships in military-applied sports. And recently there were World Games among the cadets. This is a kind of military Universiade. Cadets refer to cadets of military schools, and not schoolchildren at all. At the I World Cadet Games, our team took second place. This year, 2014, we will participate in six types in Ecuador at the II World Cadet Games. I think we will take first place, because we are preparing very hard and there are chances.
It must also be said that SIZM is considering new sports. Mostly they are inclined to think that there should be more military-applied, in fact, sports. But traditional types - ski racing, biathlon, which came out of the military environment - remain. These are interesting, exciting and very popular sports.
I think the more sports the better. Because we have no talented people, talented military in relation to the sport. Everyone is prone to some kind of activity. And here is one of the tasks - to find this activity, so that everyone would be interested in serving, working and competing.
It is hard to disagree with Alexander Schepelev. Sport is a rivalry, but this rivalry unites. And it is not for nothing that the motto of SIZM: "Friendship through sport!" In military sport, surprisingly, there is no political component, there is no threat of sanctions, no call for a boycott, no artificial barriers. Therefore, military athletes not only represent their country, glorify it with their success. They also help the cause of peace, mutual understanding of military personnel from different countries, strengthen friendship between nations. Such is the role of army athletes in the international arena.
And this is another reason to develop high-profile military sport and invest in it. Even if there were disagreements between the countries, contacts in the military sphere were interrupted, the warrior-athletes would still reach out to each other.