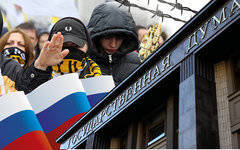 It would be better if the Duma banned insulting the Russian people, the expert complains
The State Duma banned the propaganda of Nazism. Fully. Irrevocably. And the citizens at the TV startled involuntarily: this is no longer a joke to you - to prohibit Nazi propaganda. Who dared? Who allowed? The Nazis among us ?!
If you read some of the media, then yes. Unless they do not go home with photocopies of "Mein Kampf" and do not agitate, replenishing their ranks with fragile but hot souls ... Obviously, it was this image of the treacherous modern fascists that Mrs. Irina Yarovaya drew in her rich imagination, but it is unlikely that we sin against the truth, if we say honestly: wrong, outlawed. Everything is both simpler and more complicated at the same time.
Nazism is not just a juvenile idiot who draws swastikas in an elevator, not a young provocateur from near Moscow region. First of all, this is ideology, including among the officials themselves, who confidently feel that they are a "special race". With all the ensuing set. Is that the case of gas chambers is still unlikely to come.
And surely they would be only in favor ...
A well-known publicist and political figure, former State Duma deputy Andrei Saveliev noted the deliberate absurdity of such a general approach of lawmakers to such a fundamental issue:
- Apparently, the State Duma is so well informed that it knows where the Nazis, fascists, Bandera are ... As much as I am involved in politics, I have never met a single Nazi or Bandera. These terms are generally used in Russia, rather, as a curse word. Obviously, the State Duma decided to give the vulgar street fighting legal status, and we can say that this way an insult to the whole of our country is inflicted.
Are there really forces in Russia that are completely identical to the historical fascist regime of Italy, or Nazism of Nazi Germany, or the Bandera gangs that operated in Western Ukraine during the war and partly after?
The fact that this is not even close is known to everyone, but the State Duma too often substitutes the truth of life with illusions that it needs only to prove to all of us once again: we are all so stupid that we cannot understand that we are in fact fascists and that we need to pursue for it
That's exactly what article it is time to enter for a long time - so it is for insulting the Russian people. Moreover, it must necessarily have a retroactive effect: those who allow themselves to mock at the state-forming people, to mock at what is holy for them must be prosecuted. And I can only wish the deputies long-term health to live to see the court and be able to bear responsibility for the systematic humiliations to which they are now Russian.
Although I suspect that it was unlikely that those who had voted at all knew which documents were adopted following the results of the Nuremberg Trials, nor are they likely to know that the documentary basis of this tribunal has not yet been studied by historians to the end. But did the deputies read the well-known documents, or were they simply told to vote, because "it is necessary," and they voted? ..
In turn, the historian and publicist Mikhail Smolin paid particular attention to some details:
- It is obvious that the current situation in Ukraine has pushed our government towards such a swift adoption of this law. It must be assumed that, according to the idea of ​​the authors of the draft law, its adoption will give us the opportunity to sift out in society some definitely negative trends in political life, which tend either to directly follow the National Socialist doctrine or ideas similar to this doctrine.
In this connection, I would like to note that, in fact, national socialism is a left-wing doctrine. Although in Soviet times it was customary to refer this movement to the extreme right, which is wrong. And the term "fascism" has taken root in our country precisely because in the Soviet Union it was inconvenient to talk about national socialism, since socialism in the Soviet country was perceived as definitely positive.
And here, given the above confusion, it is very important to apply this law precisely in relation to the radical leftist movements associated with Nazism, a certain radical perception of socialism.
Vice-President of the Academy of Geopolitical Problems Konstantin Sokolov also expressed his opinion on the adoption of such a law:
- First, of course, it is very important to carefully read the adopted law itself. This is fundamentally important for one simple reason: it is important to understand what exactly will be prosecuted and on what grounds will fascism itself stand out.
Secondly, there is already one fundamental thing laid down here. The fact is that in fact at the Nuremberg trial it was Nazism, not fascism, that was condemned. Just because fascism is the rule of the administrative-nomenclature system.
That is, any absolute monarchy is essentially the same fascism, but it was Nazism condemned, expressed in the genocide of other peoples in the interests of its own. And I would like this moment to be clearly defined.
In addition, in modern conditions, law enforcement practice will be extremely important, that is, how exactly these actions will be interpreted by the investigation and the court. In the law on countering extremism, in the relevant articles of the Criminal Code, the basic concepts were not clearly defined and, as a result, the articles themselves were turned into a tool of almost arbitrary persecution, when, as it turned out, anyone could be brought under this article.