The head of the engineering service of the Russian Air Force, Colonel Alexei Khazov, told reporters
"INTERFAX"
that in the near future the newest development of the national defense industry, the anti-helicopter mine, will be adopted by the Russian army.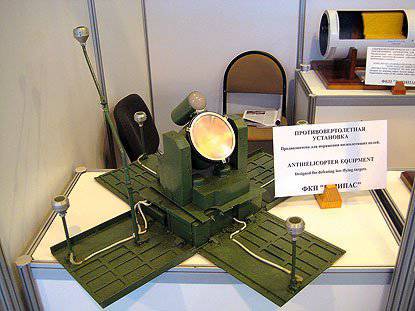 The anti-helicopter mine at the end of 2013 was tested and will now be accepted for procurement, it is planned for the near future. It hits a helicopter or another aircraft at an altitude of up to 200 meters, it forms a shock core according to the principle of a shaped charge.
According to him, the weight and dimensions of the new ammunition has not yet been disclosed, but soon such information may be announced.
At the air-fire conference, which takes place at the Ashuluk training ground, the officers were informed that a new anti-helicopter mine (PWM) had passed state tests under the number 01.
This is the latest development, which should be adopted for the supply of the Armed Forces of the Russian Federation in the near future.
The anti-helicopter mine is designed to disable low-flying aerial targets, such as airplanes, helicopters, and other aircraft motor vehicles. The height of the destruction of flying objects to 200 meters. Anti-helicopter mine can be installed manually or by means of remote mining to the ground.
PVM consists of a multi-frequency infrared sensor, speaker system and warhead. Mina, using the speaker system, detects the target, turns the warhead toward the target, and, scanning the direction with the help of a multi-frequency IR sensor, determines the true direction to the target and the moment the warhead is undermined.
The destruction of a target during the explosion of a mine is inflicted by a shock core flying out in the direction of the target. The goal is considered to be a source of sound and infrared radiation simultaneously. Aiming of the charge is made in the upper hemisphere of the helicopter, on the engine and the blades.
Mina does not work when hitting a car or a soldier's feet. PVM is also equipped with a remote-activated element of anti-handling, as well as a device for self-destruction, which works after the set time.
As Colonel Alexei Khazov told the newspaper
"Military Industrial Courier"
:
There are no similar analogues in the world today.