The head of the anti-terrorist center of the SBU, Vasily Krutov, said that all participants in the special operation in Slavyansk would not storm the city, as this could lead to numerous civilian casualties. He said this at a Friday briefing. At the same briefing, Mr. Krutov said that lately in the southeast of Ukraine, the SBU detained 30 saboteurs, among whom there are both Russian personnel officers and military personnel of the Armed Forces of Ukraine recruited by the Russian special services. This is reported by the portal.
"URA-Inform"
.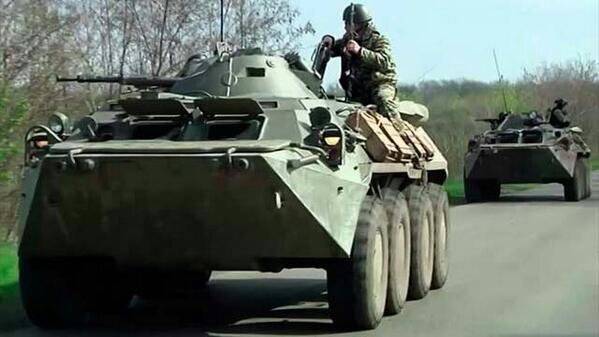 At the same time, there is information that Slavyansk is in the ring, organized by Ukrainian troops and units of the so-called National Guard. The purpose of the blockade of the city, according to the Kiev authorities, is to prevent reinforcements from arriving at the "separatists" (as the Donbass people's self-defense forces call Kiev).
How dense is the ring formed around Slavyansk, can be judged by the testimony of local residents, who say that soldiers often leave their positions, trying to get for themselves basic food. An interesting episode occurred on RT, when, during live broadcast, local militiamen appeared in front of the camera and appealed to Turchinov to feed "his" army convicted of looting.
On the air of TK "Russia 24" Vyacheslav Ponomarev, people's mayor of Slavyansk, said that militants from the Right Sector were trying to enter the city, bypassing the militia checkpoints.