Petro Poroshenko: Eastern regions understand only the "language of force"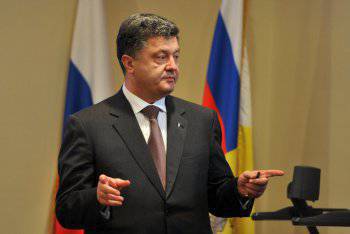 Extra fractional people's deputy Petro Poroshenko is sure that negotiations with the protesters in the east of the country are not needed, reports
"RT in Russian"
. In his opinion, supporters of federalization do not want to compromise, so you need to speak with them in the "language of force".
"How can you have a dialogue with such people? What language to speak with them? They don't understand Ukrainian, they don't understand Russian either. They need to speak only in the language of force, "he quotes as Interfax-Ukraine. So the presidential candidate of Ukraine commented on the actions of the current government, aimed at negotiating with the militias controlling administrative buildings in the eastern regions of the country, in particular, in the city of Slavyansk.
It should be noted that Poroshenko made similar statements during a meeting with students of the Luhansk National University named after Taras Shevchenko, that is, being in the east of the country. According to the head of the information department of Poroshenko's election headquarters, Iryna Freese, when the candidate arrived at Lugansk airport, several hundred protesters who did not allow politics into the city blocked the exits.
Yulia Tymoshenko, who also claims to be the highest state post, spoke about the "language of force". True, the threat of the use of force sounded against Russia, if it violates the Geneva agreement.