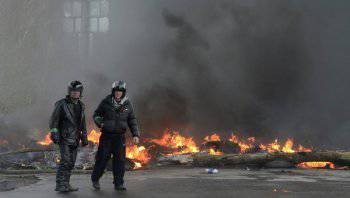 According to the
RIA News"
On Thursday, the Deputy Secretary of the National Security and Defense Council (NSDC) spoke on the air of the Public Television, who reported that the special operation in the east of Ukraine would take place in several stages.
"The special operation will continue. It will take place in several stages. We can not announce them. Today was one of these active stages. He completed his task, "she said.
"Russian Spring"
cites the words of. President of Ukraine, Oleksandr Turchynov: "Considering the real danger and the need to protect people, we resumed the antiterrorist operation ... At the same time, the Russian Federation coordinates and openly supports terrorists operating from
weapons
in the hands of the east of our country. "
April 24 morning, Ukrainian security forces
resumed
the operation near Slavyansk, which, according to the city militia commander Vyacheslav Ponomarev, defends 2.5 thousands of people, reports
RIA News"
. "Mostly locals, but there are our like-minded people from other cities and regions," added Ponomarev.
He also acknowledged that some militias have automatic weapons. In addition, there is information about the presence of several airborne assault vehicles taken from the 25-th Dnepropetrovsk Airborne Brigade from the city's defenders.
As noted by
"Russian Spring"
, during the operation in Slavyansk, on the "Euromaidan" twitter, pictures of camouflaged fighters who attacked city checkpoints quickly appeared. In addition, there are videos of the preparation of the operation, transportation and the attack itself.
Information Agency
"Vesti"
reports that the Slavyansk people's militia spent the night of 24 on April 25 in anxious anticipation. However, the repeated attack did not happen, although the head of the Ministry of Internal Affairs of Ukraine stated that "a military operation will go on around the clock."