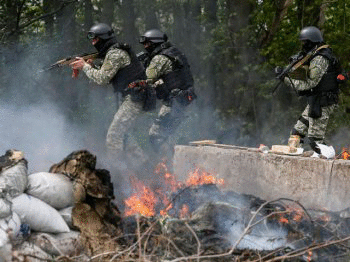 According to the
INTERFAX.RU
, the Russian Foreign Ministry urged the US to use all its influence on the Kiev government to convince him to refrain from committing rash actions.
"The unpredictability of the development of the situation in the south-eastern regions of Ukraine, where regular military units, special forces and ultranationalist paramilitary forces are thrown against the population, requires urgent action to force the Kiev authorities in charge of restraint and non-use of force," the agency website said.
As noted by
newsru.com
, on 23 and 24 on April, telephone conversations were scheduled between Russian Foreign Minister Sergey Lavrov and US Secretary of State J. Kerry, who "unfortunately did not take place."
It is worth noting that the positions of the American and Russian sides in the operations carried out by Kiev in the south-east of Ukraine are directly opposite.
As the
ITAR-TASS
, US State Department spokesman Jen Psaki said that the actions of the Ukrainian authorities are legitimate. "The legitimate government of Ukraine rules the entire country," she said. "They have the right to maintain calm, stability and order."
Information Agency
"Vesti"
reports that the program "Sunday Evening with Vladimir Solovyov" on Russia-1 TV channel was made by Russia's ambassador to the UN, Vitaly Churkin, who made several statements on resolving the crisis in Ukraine.
Churkin said that during a telephone conversation, UN General Secretary Ban Ki-moon proposed to publicly condemn the use of force in the south-east of Ukraine. The diplomat said that currently the UN Secretariat is taking a neutral position in the Ukrainian issue.
He also recalled that "the Federation Council issued a mandate to the President of the Russian Federation to use the armed forces on the territory of Ukraine", which can be used "in the event of a worse development of events." "This opportunity is always in our hands. But, of course, it would not be desirable, - Churkin added. "Now the main task is the de-escalation of the conflict."
As noted by
newsru.com
Earlier, Russian Foreign Minister Sergei Lavrov announced the conditions for the entry of armed forces into Ukraine. According to him, this will happen "in the case of direct infringement of the interests of Russia and Russian citizens." "If we are attacked, naturally, we will defend ourselves," he added.