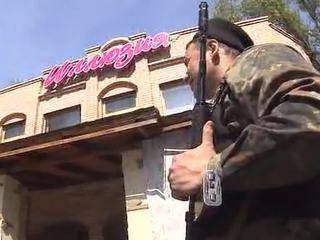 There is no civil war in Ukraine. No civilian, but what? In Kramatorsk, Ukrainian machine gunners shot and killed two unarmed militiamen. In Slavyansk, death squads coming from Maidan killed two barricades.
Kiev fire support helicopters continue to fly east, rumbling
Tanks
and armored personnel carriers, multiple launch rocket launchers and landing units are moving. The Ukrainian military called for the help of American mercenaries and thousands of them undergo adaptation in the vicinity of Kiev.
Kiev forms the battalion "Vostok". Is this not the likeness of the Nachtigall battalion? Does this mean that the tortured corpses of supporters of federalization will soon begin to roll in the southeast, that they will rip the bellies of pregnant women with knives, that they will burn insurgents from flame throwers? Ukrainian media sponsored by oligarchs demonize the southeast, demonize the Russian-speaking, demonize the Russian and pro-Russian.
How does the southeast respond to all this? Urban uprisings continue. The declaration of sovereignty and independence continues, with the requirement of federalization. There are militias. People's mayors and governors are elected at spontaneous meetings. An armed militia is being built, which has a small
weapon
, rocket launchers. And if Bandera tanks enter the streets of Donetsk, they will be burned in street battles from fortified areas. On the chest of the newly elected governors, the protesters - St. George ribbons. These St. George ribbons symbolize Victory.
The fuse contacts are coming closer. And it seems that a terrible explosion will flare up, and then Ukraine will turn into a boiling cauldron, into a huge bloody chaos from which there is no way out. Russia does not want this chaos. Russia fears, does not want a civil war in Ukraine. He does everything to ensure that the situation enters the political, compromise direction.
Representatives of Russia, the West, Kievites gathered in Geneva and signed an agreement that seemed to be conducive to a settlement. However, in practice, this agreement looks like paper with faded watermarks.
Perhaps we are mistaken in believing that the goal of the West in Ukraine is the creation of NATO bases in the vicinity of Kharkov? Perhaps their plan is quite different? It is to turn this blooming huge Slavic country into a huge bloody cauldron, to sow civil war and many years of strife there as they did in Iraq, in Libya, in Syria. And so that this bloody smoky mash boils and gurgles near the borders of Russia?
And the protuberances of this terrible slaughter struck the Russian borders and reached not only Bryansk, Rostov or Belgorod, but also the suburbs. How to be? How to act in Russia in these tragic conditions? Wait for the fire to break out, when will these Bandera gangs really pull out their tongues?
When will this endless, long-lasting war of two Slavic peoples, which will end the Russian world, begin? Hard to say. Russia is kept by agreement, Russia is kept by prudence, Russia is kept by intense political struggle and activity preventing these conflicts. But in the consciousness of the peoples and in the historical consciousness there is something more sublime and sacred than simple political expediency.