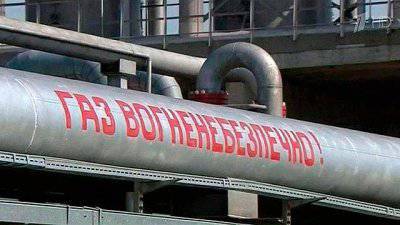 Today in the media there was information that Gazprom billed Ukraine for 11 billion dollars for 2013 a year. This amount includes both the cost of gas supplied, and the cost of undelivered.
I turned for comments to my friend who works in this glorious company, and this is how I received an explanation.
The fact is that any gas supply agreement for a certain period provides for payment of both received and unearned gas. And it is spelled out in any supply agreement, for any customer. Both foreign and domestic.
There is such a thing as a quota. Under this quota, the consumer undertook to consume, for example, 1 a million cubic meters of gas. And, accordingly, pay. If a client has gone over, then naturally, above all, he is obliged to pay. But if you don't have ... then you also have to pay.
If the shortfall is less than 10% of the requested quota, then nothing else. And if more - the money on the barrel. Gas specifically for Ukraine was produced, poured into gas storages, pumping capacities, pipelines and so on were reserved.
Our Ukrainian consumers decided to play in independence and refuse to supply gas in favor of fantastic projects such as the virtual reverse of our own gas from Europe. Good. But the gas for them is already here, it has been produced, liquefied, and ready to be shipped. So if you please, gas independence also costs money. Allow me to pay.
By the way, this is another point. Ukraine does not pay for Russian gas. It is a fact. Having agreed with the reverse with the Slovaks, where is the guarantee that Bratislava will receive money for gas from Kiev?
11 billion - a huge amount. It is indisputable. But that is not all. The fact is that since the beginning of 2014, similar payments have run over another 7 billion. Non-payment, underconsumption, delinquency. In total - 18 (eighteen) billion US dollars.
It is unlikely that Mr. Yatsenyuk, who was in the team that signed the 2009 agreement, was not in the know. Very unlikely. And I think that he, like anyone else, is well aware that he will have to pay. But where to get so much? All the advances that were generously squandered by Western Allied friends add up to God bless, a third of that amount. And that Ukraine has not yet seen in real money.
Then begins a headache in Europe. The fact that Ukraine will not pay any hryvnia in the near future is clear to everyone. Especially those who have money. Germany, France. Well, the United States, who have no money, but they are still in the subject. Who will pay?
There is hardly anyone in the world willing to give Ukraine SO MUCH. Especially, given the fact that this money really does not get back for understandable circumstances.
And again, in perspective, Europe has the ghost of Miller with a wrench at the valve on the pipeline. And panic negotiations on a gas theme will begin again (winter is much closer than it seems) and the search for solutions to the problem.
Meanwhile, the Ukrainian junta confidently leads its rusty and holey steamer to the pier with the inscription "Default. A place for sludge.
Honestly, gentlemen, would you stop sagging
weapons
and would do business. That is, they would go to hell and leave Ukraine's politics and economy alone.