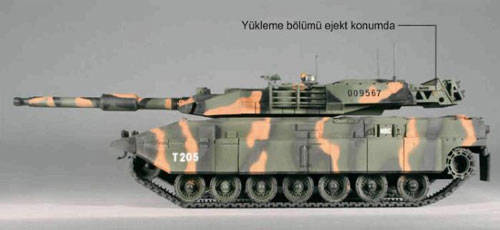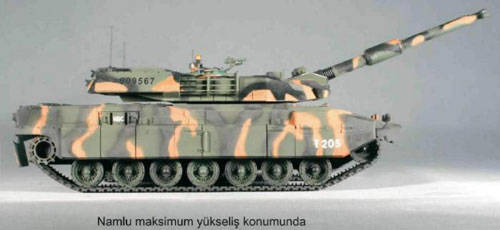 Production Program (MITUP) of Turkish National
tank
moving forward. Turkish National Defense Minister Vecdi Gönül announced on April 30 that a prototype of the Altay, Turkey's first national tank, will be on display at an international military exhibition that opens in Istanbul on May 10.
At the same time, the Minister didn't tell about the technical characteristics and the time for the completion of the development of the tank. According to him, the first Turkish tank will be better equipped in comparison with all other tanks that are currently used by the Turkish military. And the total number of Altay tanks that will be produced will be determined according to needs.
The German tanks Leopard 1А and 2А, as well as the ex-American M60 and the ex-West German M48 are currently operated in Turkey.
The new Turkish tank Altay was developed by the South Korean company Hyundai Rotem together with the Turkish car company Otokar. In the tender for the right to become a foreign subcontractor under the contract, Rotem won KMW from Germany. The contract assumes full transfer of technology to the new South Korean main battle tank K-2 Black Panther.
In the new Altay tank, the technology used in the South Korean K-2 will be about 60 percent. The cost of the Atlay project is estimated at 500 million. The plans envisage the production of four prototypes by the year 2015.