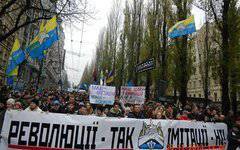 They have already committed a lot of crimes, and are ready for new ones.
Someday we all, living in Russia and rejoicing in the return of the Crimea, will have to gain courage and recognize one fact, which, in fact, already today is indisputable: Ukraine is now the enemy for Russia.
We note right away: the enemy is not the Ukrainians, but Ukraine as a state occupied, albeit arbitrarily illegal and ridiculous, but nonetheless real pro-fascist junta, which does not plan to disappear into non-existence after 25 May, when presidential elections are scheduled in the country. But in Russia, there are still hopeless romantics who believe that the anti-Russian junta, now entrenched in Kiev, is something temporary, and that "this too will pass."
Let's say. But how exactly will pass? Imagine this is not even dare. And all the proposed "on the go" options after their cursory analysis does not seem obvious. Take the example of the United States and instill in Kiev "sovereign democracy"? Firstly, "not our method", and secondly, not so much that "the gut is thin" is so frank to shove against the world anti-Russian lobby, but for what? Moscow does not need to prove by propaganda methods to the majority of the Ukrainian population that they are connected with the "big brother" in the north-east and that Russia is good for them. This is not a question of evidence: it is a blood issue.
Although the propaganda launched now in the official Ukrainian mass media is trying to "bring reason" to the Russians in Little Russia. But nevertheless Moscow in this respect is in a far more advantageous position than Washington. It is hardly possible to convince the Kiev or Nikolaev average citizen that the American civilization is more familiar to him than the Russian, such heights would be achieved by homegrown Goebbels.
Nevertheless, Kiev appealed to the United States, asking for help: "Russian terrorists" overcame, there is no more strength. Pumped and pumped. The Crimea was occupied, the South-East will be endeared, the signed agreement in Geneva is ignored. Vice President Joseph Biden reported on this and other "horrors" of the neighborhood "and. about. President "Turchinov. Biden promised to help.
Actually, the question is not that the junta is asking the West for help. As if they did not ask already. But in this case, it is the frankness and immediacy of the request that is striking. Without looking at the politeness, without thinking that you do not want with Moscow, but you have to set up a dialogue. What for? "Deliver us from the Russian terrorists" is a completely transparent and a lot of talking message for you.
In the conversation, the well-known Russian political scientist and publicist Anatoly Wasserman noted that Ukraine had finally decided on the anti-Russian vector:

- The project "Ukraine" was originally created as an anti-Russian tool, and the concept of separating Ukrainians from the rest of the Russians itself is definitely anti-Russian simply because the junta has no other way to keep part of the Russian people cut off from the rest of the Russians except to continuously arrange conflicts.
Another thing is that smart leaders, such as, say, Kuchma or Yanukovych, arrange scandals of no greater scope than is needed to maintain the mutual isolation of parts of Russia, that is, for them these conflicts are just a tool to maintain their own independence from the rest of Russia, and, accordingly, they use it moderately.
But there are also people who have taken this idea, unfortunately, seriously and are ready to act according to the principle of "take out my own eye so that my mother-in-law has a son-in-law". And such figures, unfortunately, now come to power in Ukraine.
Accordingly, the current version of the Ukrainian government will remain openly anti-Russian, I think, even after the election of the new president of Ukraine is declared to be held. But in reality, this election will not take place because the legitimate Supreme Council of Ukraine, by its own actions and its own decisions adopted by 22 of February of this year, has made itself incapable and illegitimate. I wrote more about this in my recent article, "Legally Minor".
In Ukraine, all the legal powers of those who have been removed from power by accomplices of the coup d'état are preserved, and these accomplices themselves and all decisions made by them have no legal effect, do not entail any legal consequences, since 22 February from . city ​​- it is not even "acting". They are the actors in a very bad amateur performance. Accordingly, the elections themselves are only a part of this performance, when it is completely unprincipled who the citizens will choose in the end.
But in order to remain in power, even if completely illegal, the accomplices of the Kiev coup d'état have already committed quite a few crimes and, undoubtedly, committed them in large numbers, because in principle it is impossible to maintain the dismemberment of Russia by purely peaceful means, and there is no doubt that these criminals will go to the end. Moreover, various high-ranking American leaders fly there from time to time in order to force criminals to bring their crime to a logical end on a kink.
So the current government of Ukraine, both now and after it declares elections held, remains indisputably and frankly anti-Russian. Its activity is harmful not only to the Russian Federation, but also to the whole of Russia, and there is no doubt that it will remain so in the future. And, moreover, even after the coup d'état is over and sane people come to power, if they want to be independent, they will be forced to become anti-Russian. This will be an objective necessity for them.
We can only influence the situation by supporting those forces in Ukraine, which, despite all the repressions, will not abandon the idea of ​​Ukraine's reintegration with the rest of Russia. In the current situation, I do not see any other way.