At the media forum of the All-Russia Popular Front, President Vladimir Putin made a speech. One of the most resonant segments of the speech of the head of state is the situation in the south-east of Ukraine. The President reacted extremely harshly to the criminal order of Kiev to leave the army against the residents of Donbass, who want to defend their own interests. Information Agency
ITAR-TASS
quotes Vladimir Putin:
If the current regime in Kiev really began to use the army against the population inside the country, then this is a very serious crime against its people.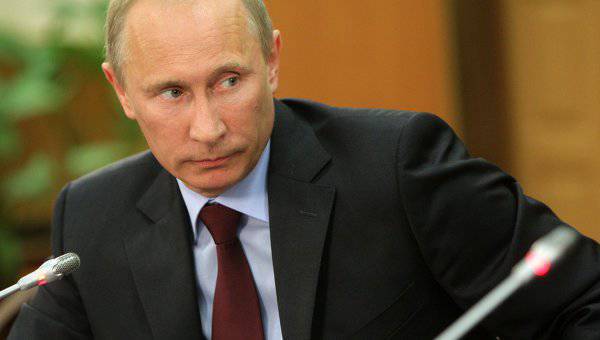 Vladimir Putin recalled that at the time the legitimate President Viktor Yanukovych had not decided on the use of military force against the citizens of Ukraine, having all the opportunities to issue the appropriate order. The Russian leader noted that the events that are unfolding in the Donbass are not at all an acute phase, as Kiev calls it, but a real punitive operation. And this punitive operation, according to Vladimir Putin, will have grave consequences for those who made such decisions, as well as for interstate relations.
For the first time, Vladimir Putin, giving an oral description of people who committed a coup d'état in Ukraine and came to power, called the junta:
This is the junta, some kind of click. First, they do not have this national mandate. At best, they have only some elements of legitimacy, and then only within the framework of parliament. The rest of the power for one reason or another is not legitimate.
Junta
(definition
TSB
):
Junta (isp. junta), the name of various kinds of associations, unions, commissions of state bodies in the countries where the Spanish language is spoken; in some Latin American countries, the designation of a military government that came to power as a result of a coup d'état (military X.).
From the definition of the junta
Wikipedia
:
Junta often created spontaneously, coming to power as a result of revolutions, rallies and mass violence. Despite the fact that stories There are various types of junta, including liberal ones, in the modern Russian language (as well as in a number of other languages ​​of the world) the word "junta" is used mainly to refer to the military dictatorship established as a result of a coup d'état, and not necessarily in a Spanish-speaking country.
Vladimir Putin harshly criticized the Kiev impostors for non-compliance with the Geneva accords, namely, that neither the Right Sector nor other radicals are disarming.
Vladimir Putin:
Nobody in Kiev releases anything. On the contrary, these groups began to legalize. It is necessary not to follow this path, but to follow the path of dialogue between all the inhabitants of the country, wherever they live.

There was also a response from Kiev performed by Turchinov's "commander-in-chief" (
"Interfax-Ukraine"
):
We demand from the Russian Federation to stop interfering in the internal affairs of Ukraine, to stop the constant threats and blackmail and to withdraw its troops from the eastern border of our country