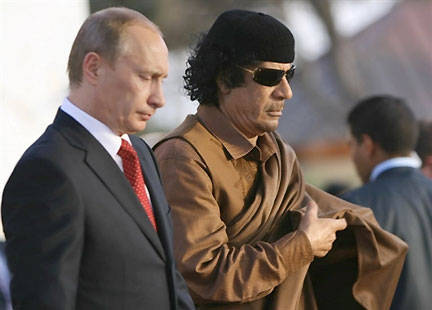 The Libyan leader asked the Russian prime minister to mediate in the peace talks.
The Americans and their allies, united in an international coalition, whose goal is to overthrow the legitimate Libyan leader Muammar Gaddafi, for the first time openly demanded a sanction to conduct a ground operation in this country. A statement on this topic was made by NATO Deputy Assistant Secretary General for Political Affairs, James Appathurai, that, given the rank of the person who spoke out, one cannot in any way be considered his "private opinion."
"Yes, I believe that the UN Security Council should adopt a new resolution on Libya, because the 1973 resolution does not imply a ground operation. Therefore, in order for any hostilities to take place on earth, it is necessary to adopt a new resolution, "RIA quotes"
News
»Appathurai's words spoken during a video link with students of Moscow State Linguistic University. Of course, at the same time he made a reservation that, say, the West has no intention to change the political regime in Libya. "Gaddafi is not the goal of NATO. However, his troops continue to purposefully kill the civilian population of Libya, namely, the protection of civilians is the main goal of the coalition, "Appathurai said. However, we all know the price for these his words.
Nato said can be interpreted in two ways. First, the Western coalition has no illusions that it will be able to ensure the victory of the so-called. "Rebels" with the help of remote methods (to put it simply, bombing). And secondly, the leadership of the Alliance seems to be seriously counting on the success of its attempt to push such a resolution through the UN Security Council. So, he has some reason to believe that Russia will not again apply its legitimate veto power over such a project.
Earlier, we recall, Russian Foreign Minister Sergei Lavrov said that our country does not intend to support a Security Council resolution that would allow a ground operation in Libya. But, as we paid attention, he did not say that Russia would impose a veto on such a resolution. According to the Russian leadership, it did not support the 1973 resolution either, since it abstained from voting, however, all unbiased experts understand that in the current international context any decision other than veto of the draft resolution means actual support for the document.
We note, however, that the recent events in Libya, namely the barbaric bombardment of non-military objects, during which, in particular, killed the youngest son of Gaddafi and his three grandchildren, caused some tightening of the rhetoric of Russian politicians. In particular, as Interfax reports, the head of the State Duma's international affairs committee, Konstantin Kosachev, stated that if information about the death of Gaddafi's relatives is confirmed, it will be "a vivid confirmation that the indiscriminate use of force by the anti-Libyan coalition is as unacceptable as the Gaddafi and his loyal forces in the civilian population. "
The Russian Foreign Ministry responded to recent events, saying that statements by coalition members that strikes against Libya do not have the goal of physically destroying Gadhafi and his family members "are causing serious doubts." "As we warned, the disproportionate use of force, especially with overstepping the mandate of UN Security Council resolution 1973, which in no way involves changing the leadership of the Libyan Jamahiriya, leads to disastrous consequences and deaths of innocent people," the Russian Foreign Ministry said. On Smolensk Square, they again called for "strict compliance with the provisions of the decisions adopted by the international community on the Libyan conflict, an immediate cease-fire and the beginning of a political settlement without any preconditions."
However, the matter does not go further than similar, albeit rather tough statements. Although, we recall, Russia could well use the latest events in Libya in order to fulfill the request of the leadership of this country and to convene an emergency meeting of the UN Security Council to consider the actions of the Western coalition, if Moscow believes that it has gone beyond its authority .
Meanwhile, a translation (albeit an amateur) of Muammar Gaddafi's speech appeared in the Russian Internet, in which, according to official media, he allegedly declared war on Italy. We offer the translation text to your attention:
"My brothers and sisters!
Today is both joyful and sad for me. On this day many years ago, in the battle of Al-Gadabiya my grandfather died the hero's death. Fell along with hundreds of other Libyans. Now, almost a century later, Italy is returning, bringing evil to our land. I am sad that today I have to remember this. I wanted to forget about it.
I want to ask Berlusconi: "Silvio, where is our friendship, about which you talked so much? Where is the Italian parliament, which also talked a lot about friendship? Where are you all?". Italy has done a lot of pain to the Libyans, the Libyans are very offended by Italy, and I have no veto power to forbid them to feel pain and resentment. Italians told us: "We want and we will be friends." They lied. Yesterday Italy bombed Sirt.
Those who called themselves my friends - the leaders of China, Russia, Nigeria, South Africa, Portugal - I ask you: what was discussed in the UN resolution 1973? Is it allowed to establish a no-fly zone or is it good to destroy Libyans? Livia tormented without stopping. We have blocked access to oil, explode ports, bomb houses, close food supplies to the population, bomb the halls where negotiations are under way with representatives of other countries. And all this is called a "no-fly zone". I used to think that the no-fly zone is when the planes of both sides do not fly, but it turns out that this is when only Libyan planes do not fly, and yours fly, bomb what they want and where they want.
Charter and decisions of the United Nations: what is it and why? Why the resolution was adopted - to stop the planes or to starve the Libyans? Where in which resolution says: "You can kill"? Where does it say: "You can cut off the connection and water supply?" Where?
I am not one of those who love to ask: they usually ask me, and I do not refuse. But now I ask the whole world: please, we need to sit down and talk, publicly and honestly, so that the world can also hear our voice.
I ask, I personally ask you, Vladimir Putin, to become a mediator. You can, I believe it. We are happy that your words were voiced that the bombing should be stopped, but we all know that al-Qaida despises international laws. I urge you: look who fires when I declare a truce. Peace is impossible when only one side ceases firing. Libyans never fought among themselves. What is happening now is a war against Libya, not a civil war.
I ask the world community: come, come, do everything to stop the bombing of civilian objects. Nobody needs a war here. Libyans are my children, Libyans do not fight with me, but I do not fight with them. Look: we help people who have lost everything they earned through hard work. I ask the leaders of the African Union to visit Ajdabiya and see who is fighting against us there. Why do newcomers from Afghanistan, Tunisia, Egypt and other countries present themselves as people of Ajdabiya? Save this city from those who captured it!
Now listen to you, people from NATO!
You bomb the wall that did not allow the flow of African migration to Europe, the wall that stopped the Al Qaeda terrorists. This wall was Libya. You destroy it. You are idiots. For thousands of migrants from Africa, for the support of "Al-Qaeda" burn you in hell. And so it will be.
I never lie. I do not lie now.
There are four errors that you should not make. Four mistakes in which no bombing will help you.
First: the internal life of Libya, its device. Only the Libyan people can and will solve these issues. Only he. Remember: not you and not even me. Only the Libyans themselves can, if they wish, change their system of self-government.
Second: I, Muammar Gaddafi. Leave me or not, it's not up to you. You are nobody. Power over Libya for years 40 is in the hands of Libyans. My grandparents, my parents were killed in Libyan soil, and they never left their homeland. You are ridiculous with your requirements. You are funny. I am not the president of Libya, but if it were possible, the people would choose me. Yes, my people love me. And you know why. For the fact that I do not like you.
Third: oil. Do not even dream. Do not even dare to dream that you are taking away from our children the right to have what they have had for the last 40 years. I do not promise you that we will sit and watch how our children are robbed. But, of course, we can talk to make your business in Libya more successful than before. After all, you need exactly this?
Fourth: Libya. White flag will not be. Never. If you come to our land, all Libyans will take
weapon
and will fight!
Life without freedom is nothing.
We will protect our freedom or we will die. "