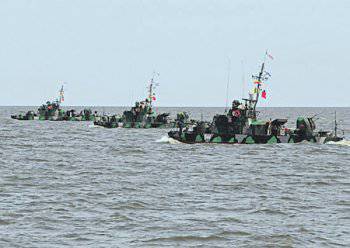 According to the
"Independent newspaper"
Caspian
flotilla
raised by alarm to verify the readiness of naval forces. Tactical exercises will continue for seven days.
"About ten raid minesweepers, boats and support vessels, as well as more than 400 sailors of the flotilla, will participate in the exercises, which will last seven days. The shipboard trawling group will have to go more than 350 miles along the Volga-Caspian canal into the Caspian Sea and perform combat training exercises at sea polygons, "the press service of the Southern Military District said.
The first stage of the exercise provides for control reconnaissance search and the subsequent elimination of minefields using contact and non-contact trawls. Then the trawl group will conduct a group of support vessels, the role of which is performed by the hydrographic vessels of the flotilla, behind the trawls to force the minefield.
In addition, artillery firing at floating mines, as well as mine explosions in surface and submerged positions, are planned for the exercises.
The ship crew of the minesweepers is headed by the brigade commander, Captain First Rank Kirill Taranenko.
It is worth noting that on April 22 a conference was held in Moscow with the participation of foreign ministers of the Caspian states, at which the preparation of the Fourth Caspian Summit was discussed. The meeting was attended by Sergey Lavrov (RF), Mohammad Javad Zarif (Iran), Elmar Mammadyarov (Azerbaijan), Yerlan Idrisov (Kazakhstan) and Rashid Meredov (Turkmenistan).
"Today we discussed and partially resolved issues on the delimitation of water spaces taking into account the agreements that have already been reached in the framework of multilateral (five-sided) negotiations concerning the delimitation of the bottom," said Sergey Lavrov at a press conference following the meeting.
Lavrov also stressed that responsibility for the state of affairs in the Caspian region lies solely on the shoulders of the five Caspian states.