The bloody massacre in southeastern Ukraine is gaining momentum. Instead of conducting an open dialogue with the opposition forces in the Donbas, Kiev decided to throw punitive units into the region - according to all norms of the Bandera command. According to news agencies, units of the Armed Forces of Ukraine, the Ministry of Internal Affairs, the Security Service of Ukraine, and the soldiers of the National Guard participate in the operation against the residents of the Donetsk region, which the Ukrainians christened as neo-Nazi punishers, since it is the "National Guard" that is most active in combat operations against its own fellow citizens .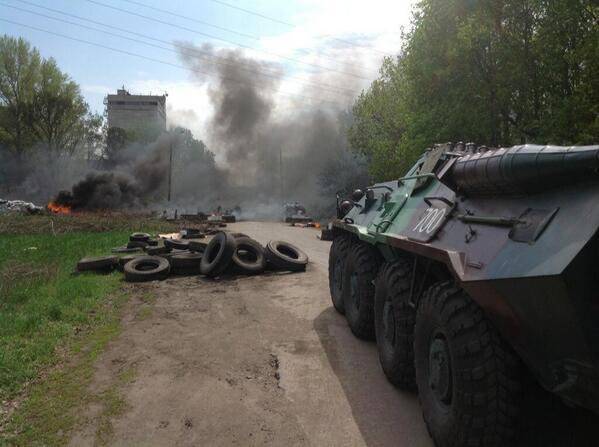 Ministry of Defense of Ukraine
reports that the command decided to start a military operation after unknown masked men attacked a military unit in the city of Artyomovsk. Kiev immediately called the attackers "pro-Russian separatists", stating that they used an automatic
weapon
and rocket launchers. The strangeness is that after the allegedly massive attack on the Artemovsk military unit, only one among the soldiers of the Ukrainian army was slightly wounded, but the attackers themselves suffered heavy losses. This was announced by the appointed Rada. President of Ukraine Turchinov.
Turchinova quotes
Interfax
:
The attackers were repulsed with serious losses, among the Ukrainian soldiers one was easily injured.
The head of the Ministry of Internal Affairs of Ukraine Avakov on his page in
Facebook
:
Artyomovsk. According to the current short report. At night there was an attack on a military unit, in order to seize weapons. A group about 70 was attacked by a man led by a Russian military (highlighted in many photos in Slavyansk - with an extensive beard). The military repulsed the attack. Wounded soldier. Data on victims from the attacking party are specified.

"Russian military man with a beard" - a muddy look at the realities of Arsen Avakov.
In the morning, the fighting began in the vicinity of Slavyansk.
Interfax
quotes the soldier of the people's army of self-defense of the Donbass Miroslav Rudenko:
... on one of the outskirts of Slavyansk, the battle began, the information about one dead and one injured was checked. Other roadblocks located on the outskirts of the city are shelled.
Against the positions of the militias in Slavyansk, Kiev involved all the military equipment and units available: helicopters, armored personnel carriers, BMD, machine-gun crews, snipers.
Reportedly
"Vesti.RU"
the checkpoint on the Kharkiv-Rostov road was immediately stormed by 6 BTR with active air support.
At the same time there are reports of the attack of Kiev formations repulsed on the northern direction of Slavyansk. According to the portal
"Russian Spring"
The armored personnel carriers of the National Guard under Ukraine retreated towards the town of Izyum in the Kharkiv region.
In Mariupol, where the Russian tricolor was raised over the local city council, bomb technicians are working, and Avakov continues to promise complete destruction to the "terrorists" while in his chair.