Russian Foreign Ministry commented on the situation with the implementation of the Geneva agreements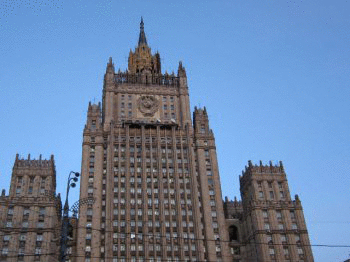 As the
newsru.com
, The Russian Foreign Ministry expressed the official position on the settlement of the crisis in Ukraine. In particular, the agency believes that the fighters of the "Right Sector" should add up
weapon
.
"Moscow is extremely surprised by the distorted interpretation by the Kiev authorities, as well as by American partners, of the content adopted by 17 on April this year. in Geneva, the statements on the results of the quadripartite meeting of representatives of Russia, the United States, the EU and Ukraine ", - noted on the website of the Foreign Ministry.
In addition, it is once again emphasized that the West does not notice the "provocative actions of the militants of right-wing forces".
According to the Russian Foreign Ministry, the militants of the Right Sector are responsible for the April 20 shootout in Slavyansk, during which either one or several people died. At the same time, Western partners continue to declare that only Ukrainian citizens who defend their rights in south-eastern Ukraine should "hand over their weapons".
"The Russian side continues to believe in the seriousness of our Western partners when they declare their desire to promote a peaceful resolution of the political crisis in Ukraine. However, the facts, alas, indicate the opposite, says the statement of the department. "We were counting on the fact that US Vice President Joseph Biden, who visited Kiev on 21 and 22 on April of this year, will affect the" power "aspirations of the current Kiev authorities. However, immediately after his departure from the capital of Ukraine, there was announced the resumption of the "antiterrorist operation" in the eastern regions of Ukraine. "
In addition, according to Russian diplomats, the Geneva accords prescribe the release of buildings on the Maidan.
"US Deputy Secretary of State Victoria Nuland in one of her last interviews even stated that protesters in Kiev are entitled to rallies on Maydanovskaya Square, since there is some kind of license for this, it's not clear who issued the license, and protesters in south-eastern Ukraine supposedly they don't have such a right, "the statement reads.