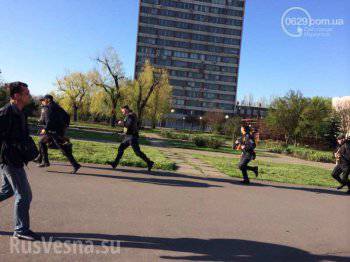 According to the
"Russian Spring"
, today between 3-4 in the morning, the National Guard under militants attacked the building of the captured Mariupol City Hall. A group of 20 people began beating up city residents in the city council. Five people received injuries of varying severity. Law enforcement officers arrived at the scene of the incident and detained some of the people.
"A gang of people armed with pistols, bats, fittings, respirators, with shields rushed into the building, began to beat everyone at once, without understanding, the peaceful population, not peaceful. They beat everyone even on the street. They broke into the building, knocked out doors, windows, smashed office equipment. They gathered everyone who was there into one room and started beating them up. And this was with the support of law enforcement agencies that were supposed to protect. We were peaceful demonstrators here who just wanted to defend their point of view, "said one of the eyewitnesses Alexander.
At the moment, checkpoints with armed guards from the National Guard and the traffic police are deployed around Mariupol. Patrol groups of 10-15 people walk around the city.
Representatives of the DPR published a message that this morning, internal troops liberated the City Hall from the invaders holding it from April 13. "The city council was taken away. They took it hard, there are wounded, they write. - taken away. They took it harshly, there were wounded, - they wrote - Unknown people barricaded themselves in the building. There is a cordon around the perimeter. The police department saw people in police uniform even with a machine gun. "