According to the agency
Newsru.com
With reference to ITAR-TASS, the candidate for the presidency of Ukraine, Oleg Tsaryov, addressed the Russian Emergencies Ministry with a request for humanitarian assistance from Lugansk and Donetsk regions.
In a live interview with Russia 24, the candidate noted a sharp (up to 100%) jump in the level of prices for various essential goods, in particular for medicines. In the Lugansk and Donetsk regions, insulin is an especially urgent need. To solve this problem, he, as the leader of the South-East movement, appealed to the Minister of Emergency Situations of Russia Vladimir Puchkov and a number of non-governmental and human rights organizations with a request to provide humanitarian assistance with products and medicines, promising, in turn, assistance in assessing the volumes of humanitarian assistance, as well as its distribution.
This is also stated in the appeal to the Minister, placed on
Tsarev site
. In discussions, the majority of participants are inclined to believe that all this is happening under the influence, as they put it, of the "junta" (authorities of Kiev - Approx. Auth.)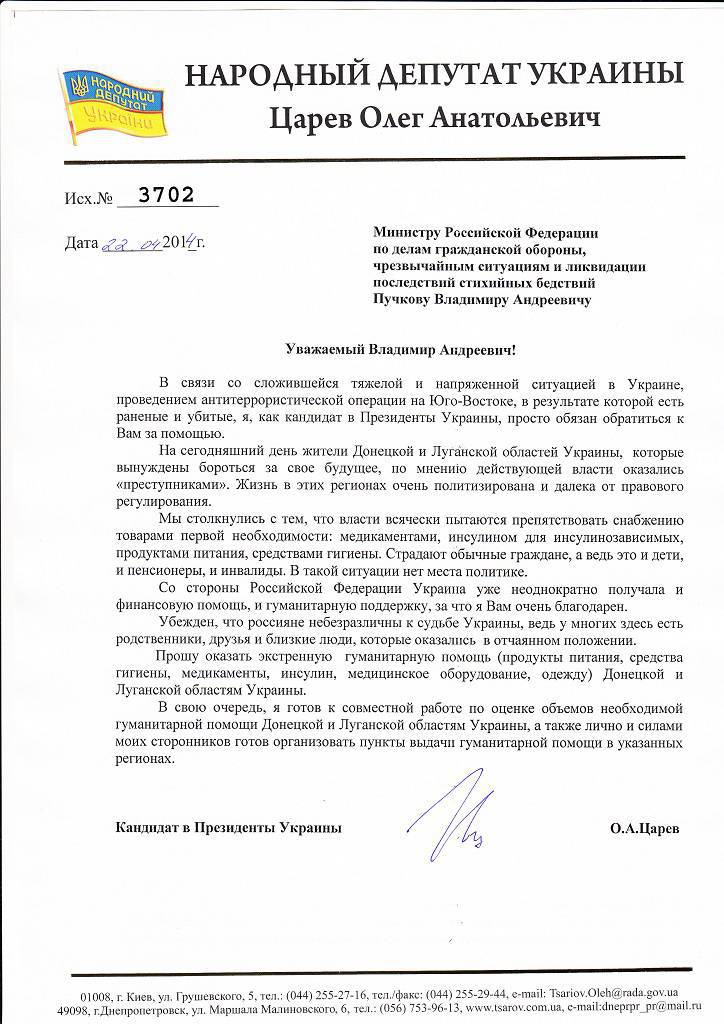 Recall that Oleg Tsarev is known for his pro-Russian views. In this regard, he was attacked by activists of the Right Sector, as well as criminal prosecution "for separatism".