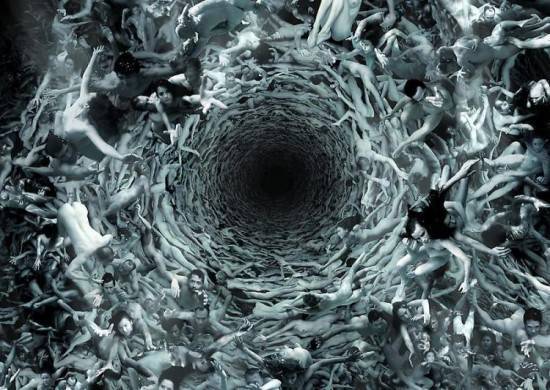 (article by Vicente Verdú, Spanish writer and journalist)
Television rhetoric about masturbation, feces, ejaculation, endless programs with strokes, weighting of busts, endless rumors about celebrities, stories about voluptuous members of parliament, linguistic excrement scattered around various interviews, putting bodies on public display. Virtually all aspects of life, formerly hiding because of shyness, religious beliefs, or the education we received, are now at the very center of public attention. Obscene expressions? Humming places? Monthly? Appearance in what mother gave birth? What other excuse is needed by one individual or a whole group of people to publicly remove his panties and expose his ass?
In theaters today they give a whole dozen of performances, like Vagina Monologues, which revolves around human reproductive organs: any intimate details of human life are dragged to the surface in order to cheer up the audience, floundering at the same time in the most that viscous vulgarity. And a similar trend in the entertainment industry can be observed around the world.
The most characteristic and noticeable epidemic of the beginning of the 21st century is not atypical pneumonia, but shamelessness, vulgarity, primitiveness. The entire globe, braided by constantly repetitive video images, has almost become similar to the metaphor-buff of the sexual organ, which is just about ready to erupt by semen or fetid with natural needs, accompanied by coarse gaggle.
What happens here, there, everywhere? Rudeness has already become the norm?
Crowded with vulgarity transfer manage to collect a multimillion audience of viewers, who turns back from the "nastiness" offered to them. However, despite this, they are not able to even look away from the picture on the TV. Moreover, among the most progressive and cult characters of our society there are those who regularly watch similar programs in order to "relax". This implies that they look at them for information about the degradation of society.
At one time, kitsch with its inherent secondary look ironic parody. The thrash culture that appeared later deceived the viewer with its supposed perversity. In a systematic vulgarity, turned into a real tautology, there is nothing but the excess flesh, slop and flat jokes. Or so: pictures from some reality shows are pure fat, a buffet of bad taste, eating food from which you do not even have the opportunity to digest it into some kind of sinful pleasure. A picture is all that goes into food, and eating ends after the end of the program.
Culture for children
Interest in the dead, the attractiveness of various crap, uncontrollable behavior, lack of understanding of the distinction between personal and public - in one word "culture of assholes" - all this belongs to the world of children. German scientist Norbert Elias, in collaboration with other researchers, published a book about the evolution of sports, in which he analyzed the behavior of adult fans at sports competitions, comparing their exclamations and gestures with children's manner of expressing their own emotions, which kids use in any public place.
Each football fan will express his emotions at the stadium like a child, thanks to the atmosphere of permissiveness prevailing at a sporting event. However, an adult person will never behave this way under other circumstances. The venue of a football match and its time act for the fan as an outlet through which all those primitive urges that civilization suppressed in man, so that he can more orderly exist in society together with other individuals, spill out. Likewise, any person was forced to leave for his private life most of the emotions associated with pleasure or pain: so the love moans were transferred to the alcove, and the administration of the body's physiological needs - to the latrines.
Today, it is really not customary to defecate in the presence of others, there are no paid mourners at a funeral, and most people are not inclined to promiscuity. People prefer to adhere to common standards of behavior in order to leave intact the common habitat zone. But all these rules after the triumph of vulgarity, apparently, are gradually beginning to die off. Otherwise, how can one explain the fact that someone in a heart-rending voice screams into a mobile phone in any public place and calls it a personal conversation? How can you justify all those antics that were publicly drunk?
All our upbringing was aimed at curbing our emotions, and the better a person was able to control the expression of his feelings, the more respect he enjoyed. And, what, today this norm of behavior is lost? It seems that the epidemic of vulgarity, recently named The Wall Street Journal, was no longer just a temporary symptom.
It is possible that this trend is associated with the general infantilization of culture and society as a whole, and its main feature is the desire to do what you want - immediately and without restraining yourself. In other words, behave like a child who knows nothing about prudence or restraint, who feels himself the master of the world and who is completely unable to understand that, in the name of some incomprehensible rules for him, he must wait to receive the desired (sweets, eating, drinking, or serving physiological needs).
In society, vulgarity manifests itself not only in behavior and in violation of its norms, but also in careless handling of colloquial speech, in hearing cuts, and misuse of established speech patterns, which can be heard in almost any television or radio program. Moreover, such a speech is beginning to be perceived as "real", "sincere", which can be used live on television and in the movie "about life." Harsh words are heard so often that they are beginning to lose their expressiveness, become pale and, like garbage, just clog up our speech, making it all the more vulgar. Today there is a situation where most people, before they say something, either think briefly or do not think at all; the norm of today's communication is the language of conversations on a mobile phone, its inconsistency and steepness resembling spasms.
A small child is not able to wait for what he wants, he is ready to stomp his feet and sob in his voice to immediately get what he wants. Similarly, the most vulgar adult person is unable to perceive literary works - unhurried in their descriptions and not inclined to produce an effect. Such a person will prefer to the written spectacular images, around which the whole culture unfolds immediately get what you want.
Vulgarity can be perceived as an evil of society, but at the same time, vulgarity is the shortest and direct way to the essence of the issue. The faster an individual gets to the heart of the matter - the better, and at the same time, the shorter the path is - the more primitive it is. In addition, the shortest path is usually the most clumsy, as evidenced by the American military campaigns. The pragmatism of the short cut is generally a very American trait, which, as such, becomes an integral part of pop culture. And it is not surprising that today this culture has spread throughout the world.
Bad manners
Today, even the Americans themselves are surprised by the widespread vulgarity. At a recent meeting in Toronto of members of the American Psychiatric Society, Lilia Cortina, a psychologist at the University of Michigan, said: "We are amazed at the extent of bad behavior among the population, and most of all by the influence of bad manners on people." This, in the first place, was about primitivism and rudeness in the treatment of individuals with each other. Thus, it turns out that vulgarity is something more than a sporadic distortion of reality and not at all verbal games with the use of the words "ejaculation, saliva and butt." Having reached a certain limit, vulgarity becomes a lifestyle. This is the style of a degrading democratic society, in which the fetid wounds of ruined human relations are revealed, the intimate side of a person's life is put up for sale, and rendering assistance turns into unnecessary ballast, which they assume only for the sake of professional gain.
Among other reasons for the onset of the kingdom of vulgarity, Harvard University professor Robert Putnam refers to the growing social isolation of people in society. In 1999, Putnam published the book "Bowling alone," in which he says that a person feels less and less satisfied, the reason for which was the almost complete disappearance of interpersonal relationships in society. The lack of contact between people and divided experiences led to the emergence of depressive states, despair, increased aggressiveness and falling into depression. And at the same time there was an increase in the distrust of one person to another.
In the absence of normal human relations, a person living nearby ceases to be a good neighbor for another, who is turned to in search of good company or help, and becomes a kind of threat. The picture of disappearance of sympathy and respect for another person can be complemented by recalling the inexplicably aggressive behavior of drivers, the coldness and rudeness of sellers in many developed countries, the increasing complaints about service workers, the sad disappearance of good relations between neighbors, families, friends. Disappears not only respect for another, but also for oneself.
This situation gave rise to nervousness and nonsense in relations between people, the primitiveness of the language of communication. In other words, the current state of things is a true apogee of rudeness. Everyone is trying to defend himself without analyzing either the means used or the one against whom they are used. At the same time, film and television show us that the more obscene rudeness, the more obvious the vulgarity - the greater the audience.
So what, bad taste is the taste of modern man? A person living in today's society - the pressure of unemployment, chronic lies, fake wars, public release of gases - does not know what to stick, and vulgarity becomes an indicator of its organic decomposition. Predilection for foul-smelling or ill-flavored food — for example, some cheeses or beverages — requires the ability to perceive the hidden flavor of a product, which usually turns out to be more refined and sophisticated than the first impression of it. Today, however, vulgarity is becoming a sign of moral confusion, garbage aesthetics, and fetid disintegration of democratic principles.