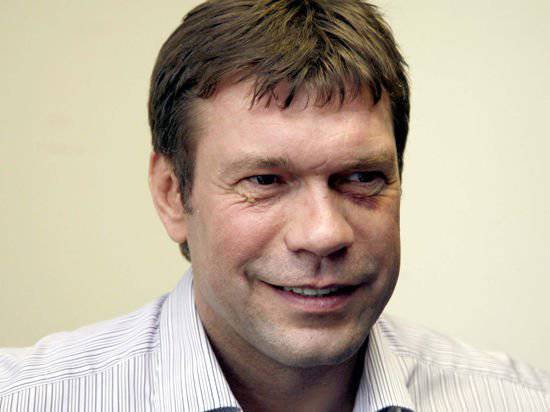 Presidential candidate of Ukraine - about the situation in the southeast, the upcoming elections and their own security
Ukrainian presidential candidate Oleg Tsarev visited Moscow, at the talks with the Deputy Minister of Foreign Affairs of the Russian Federation. And gave an interview to "MK". In the first part of the conversation, Oleg Anatolyevich told that the Berkut fighters were offered thousands of dollars for 100-200 for returning to the Kiev authorities. In today's material - the continuation of the conversation. About why Tsarev went to Kiev to an angry crowd, who are the rebels of the southeast, what to expect from the presidential campaign in Ukraine and whether a civil war is possible in the country.
- Oleg, are you a nuclear physicist by education?
- No, microelectronics.
- Why did you go to politics?
- I have always loved physics, chemistry. Finishing school, I thought for a long time where to go. I could not decide. I also showed good results in the classic wrestling. My coach thought that I needed to seriously pursue a sports career. I had invitations to a number of Moscow universities. The fact is that I won all the olympiads in physics, chemistry, programming. I grew up a boy who studied a lot and well. And I studied physics with pleasure. As a result, I entered the MEPI, there was a group leader there. Subsequently became the first student who graduated from this educational institution as an external student.
"So could you be a scientist?"
- Yes, and I would love to become a scientist.
- And what prevented?
- The country has collapsed, no one needs physicists. In the end, I returned to Ukraine. I thought to go to the factory, where I was distributed after graduation. I came, I saw and understood that I would hardly be interested in the plant. Went to business. Quickly mastered. He was engaged in computer equipment, then became the director of a production company, which we brought out of bankruptcy. And then came the dashing 90. And when law enforcement agencies finally tortured me - at that time other bandits came to replace the bandits, but in uniform, I decided to go to parliament. I thought in some way to influence the change of legislation in order to allow business to develop normally. As a result, I am in the parliament - four convocations.
- Recently, you, your wife and minor children were added to the lustration lists (prohibition to hold public office). Why did you fall into disgrace?
- My colleagues and I thought why my surname causes such hostility from my political opponents. For example, at a closed meeting of the Verkhovna Rada, deputies spent as much as 30 percent of the time discussing what to do with me. We have broadcasts on TV where lawyers gather and discuss how to make me withdraw from the elections, deprive of immunity, and so on. Three criminal cases were opened against me. But I'm just voicing the thoughts and moods of the inhabitants of the south-east. We have a blockade of fear in Ukraine. If a person expresses his opinion on Facebook and does not like it to someone, then he is calculated, beaten, filmed, and the video is posted on the Internet. This is the first warning that I should not write anything like this on social networks ...
Earlier Tsarev told historyas in Dnepropetrovsk, activists of the Right Sector approached the young man at the bus stop, shouted: "Glory to Ukraine, glory to the heroes!" The guy said nothing, did not support them with the same greeting. Then the activists began beating him, took the phone. We went from his phone to the page on the social network, and there is a photo of this guy with St. George ribbon. The result - a young man was in the hospital with broken fingers.
Another man, who found St. George ribbon, stuck a knife in his leg. In Donetsk, a very young kid, a schoolboy, wrote on anti-fascist topics. He was identified, caught, beaten and forced to apologize to the Ukrainian people on camera ...
- People are afraid to go against the current government, - continues Tsarev. - But everyone can not be afraid. Probably, my actions are very annoying opponents. But I do not capture buildings, I do not lead the rebels, although they always take me in any building, in any team. I am welcome whenever I come to them - day and night. They share with me food, tea, lead frank conversations. But I am a politician. I defend the point of view on the political platform. And yet it causes aggression.
- You are now forbidden to hold public office ...
- I have never been in the civil service. Yes, I am a people's deputy. But I have never been in the executive branch and I can hardly go there. I don't like being led. My only leader was Yanukovych, as president and as the leader of a party organization. And so I'm a free man. Therefore, these sanctions and lustration seem ridiculous to me. I understand that the current government is temporary. And all the laws invented they can not implement in practice.
- Criminal cases were brought against you, so how did you fly out of the country?
- I'm flying to Ukraine again on Tuesday. In Moscow, I met with your Deputy Foreign Minister, Grigory Karasin, to discuss the Geneva resolution. I am glad that in Geneva I listened to what the people of the south-east want. I do not know whether our wishes will be fulfilled, but the fact that our proposals are on the agenda already says a lot.
- Well, since you still flew to Moscow?
- I flew from Kiev with adventures. The aircraft was then detained on the runway, then tried to land back, then they thought to land in the Dnipropetrovsk region. When I sat down in the Donetsk region, they tried to make me go back to Kiev.
— Was that an ordinary plane?
- It was a charter.
"I will easily withdraw my candidacy from the presidential election"
- You have been engaged in classical wrestling for many years. Why did not they try to defend themselves when they attacked you in Kiev?
- In the crowd it is impossible to do.
- Was there a big crowd?
- There were a lot of them.
"Where was your guard at this time?"
- My security has surrendered weapon. And on the other side was a weapon.
- In any other situation, could you stand up for yourself?
- That's not the point. At that moment my main task was to stay on my feet. Do not fall.
- You consider the upcoming presidential election in Ukraine illegitimate. However you are running. What for?
- I use this platform in order to convey to the people the point of view of the south-east. This is the first. Secondly, I traveled all the cities of the southeast and met with almost all the leaders of the protest movements. Collected and combined them. This alone is worth it to participate in the elections.
- Admit that you have to refuse to participate in elections?
- Easy to admit.
- In this case, who would give their votes?
- We decided at the coordination council that if we see that the government absolutely does not listen to our demands, I will withdraw my candidacy and write a statement of non-participation. But I will definitely not send my voices to anyone. If the elections are considered illegitimate, then there is no point at all to vote for anyone.
- In which case the elections may not take place?
- The legislation was specifically changed so that the elections will take place, even if two voters come from all over Ukraine. No, three. And vote for the same. It is obvious that elections in such conditions should not be held, and I constantly declare this. When the army is at war with its people, when some candidates can attend only one part of Ukraine, others - another, the elections are absurd. It is necessary to start with a civil conflict, disarm people, return the army to the places of permanent deployment, and then hold elections.
- How are you going to conduct an election campaign, if you can not come to the west of Ukraine, because they constantly attack you there?
- Agree, if I did not try to come to Kiev and would not show that this is impossible, no one would know that this is impossible.
- This time you have carried. You are alive and well. But the situation could turn differently. And do we need such sacrifices for the presidency?
- The life of a politician is as valuable as the life of an ordinary, any other person. Only responsibility is higher. And the value of life is the same.
- Are you ready to die for Ukraine?
- When I was blocked in the building of the Ukrainian TV channel, where I came to participate in the live program "Freedom of Speech", they explained to me: if I go outside and get on my knees, then they will save my life. We beat off two assault. I didn't have security inside. But I understood that there are women with me - a group of support for a presidential candidate. And it was necessary to decide something - to deduce people and divert them from the threat.
I gave my mobile phones, took off my jacket and went into the crowd with the words that I would never kneel down in my life. Offered me other options. They said, they say, lay down the authority, write a statement that you are refusing to run. But at that moment I understood that they were filming me on camera, my son was watching me live. By the way, it was like that, that night, my 18-year-old son lost a kilogram of 2. And I realized that I could not give up. And in these conditions it was no longer about my life. It was about the whole country. And now, thank God, I'm alive.
- Are you not afraid for your family? By the way, where are they now?
- In Dnepropetrovsk. Where moved and "Right Sector".
- Before all these events, you lived in Kiev?
- I lived in a rented apartment in Kiev. I do not have such a big business to afford to buy an apartment in the capital.
- According to rumors, you are not a poor man?
- I have a manufacturing business. That is, not me. My spouse has.
- Does she have a network of beauty salons?
"No, she has a paper mill and a bakery." And she directs all of this while I'm in politics. I have four more children.
- How old are they?
- 6, 10, 14, 18.
"The state security was taken away from me. Private security companies were forbidden to work with me. "
- Oleg, why didn't you give out to the state security department, the only one of all presidential candidates?
"I wasn't given protection to me, they took it away from me right away, which is a gross violation of current legislation." Moreover, we were not too lazy to ring up all the private companies that are engaged in security and warn that if they work for me, they will revoke the license. A sort of political struggle.
- And how do you move around Ukraine now?
- This is the news I received three days ago. I have not moved yet.
- From day to day you will return to your homeland, who will protect you?
- I have a lot of supporters. I hired unprofessional security.
- What can you say about Tymoshenko? What is happening to her lately? In the morning she says that we need to collect a referendum. Day declares the need to send troops. In the evening - that withdraws its candidacy from the elections.
- It's purely feminine.
- Do you see any logic in these statements?
- It gives out certain things depending on the place in which it is located and to whom it refers. I always say the same thing everywhere. Not that it is good and right. I, too, made a lot of mistakes in my life. I remember my student years. And now I understand very well the young people who went to the Maidan. After all, when I studied at the Moscow Engineering Physics Institute, significant events took place in Moscow - the Emergency Committee, the White House, and my friends and I constantly strived to go somewhere, to stand up for something.
- went to the White House?
- Not. Something broke, did not work, and so I would definitely be in the forefront. I remember how we supported Yeltsin. By the way, you know, he was promoted to the MEPI, where I studied. He performed in our assembly hall. I liked him very much. I sympathized with Gorbachev because he spoke without notes. And I remember how I liked Yanukovych. It really was. I had high hopes for this country with this man. I was recently asked: "Are you capable of killing for your convictions?" I replied: "No." Why? Because many times in my life I was mistaken. But I myself am exactly capable of dying for my beliefs. A person has the right to manage only his own life.
- Oleg, apparently, you do not want to develop the theme of Tymoshenko?
- I will not discuss other candidates.
- Then answer what the phenomenon is. Poroshenko. The man does not lead the election campaign, became famous only because of his sweets, why did the people love him so much? Why does he occupy a leading position in the ranking of candidates for the presidency of Ukraine?
- He has a 20 percent rating.
- Like forty?
- This graph is shown in view of the low turnout of the southeast and the high turnout of Western Ukraine. You understand how these percentages were counted. Taking into account the attendance adjustment, his rating is not so high at the moment.
- As far as I know, you are the co-chairman of the anti-fascist forum of Ukraine ...
- Yes, we have a lot of nationalist organizations in our country and catastrophically few anti-fascist ones. I have been engaged in this activity for a long time. We have our own website, we hold round tables, publish certain literature, introduce laws.
"But what is happening today in Ukraine is the work of the fascists?"
- Nationalists, yes.
- Everything that is happening now in the Donbas is the beginning of a civil war?
- Yes.
- War is inevitable?
- I watched very carefully how long the Maidan was confronted. He did not want to get together, did not want to move to radical actions. I saw how much effort was spent to ensure that it did take place, that people died, that a wave of anger would come. There are sociological studies - with a certain average age of society, revolution is impossible. Ukraine exceeds this average age.
Of course, our situation is aggravated by a low level and a short lifespan. But when older and wiser people make up the bulk of the country, revolution is impossible at all. Understand that super efforts were made to shake Ukraine. And that's exactly the way super-efforts are spent in order to push Western and Eastern Ukraine together. People do not want this. They do not want to shoot at each other, they do not want a war, they do not want ruin. But always in any society there is a certain percentage of people who are ready to shoot, to participate in hostilities. Now they are trying to gather and direct such people to the southeast. The success of this task depends on whether a war begins or not. In this sense, the identity of the Dnepropetrovsk governor takes on a rather serious meaning.
- Who are these people who are ready to shoot?
- Radicals, nationalists.
- For what? For beliefs or money?
- Including for the money. For example, there is such a Dnipropetrovsk detachment of nationalists "Dnepr". The members of this organization are paid 15 thousand hryvnia per month, which is a little over a thousand dollars. A manager earns from 2 to 4 thousand dollars per month. Under the conditions when in our country many enterprises have stopped, this is good money.
- According to the Ukrainian version, everything that is happening in your country is the work of Russian saboteurs?
- I did not see them. I am well received by rebels protesting in the southeast. Perhaps none of the presidential candidates has penetrated even in those places where I was. They let me into the captured building of the Donetsk administration, into the building of the Lugansk Security Service of Ukraine. So, I have never seen Russian representatives. Although I was looking for them. I was interested in the rebels, are there any Russians among you? Not. I am well acquainted with the militia leaders. I know where they come from, what they do. We exchanged phone numbers with them, keep in touch, they tell us how they came to seize this or that building, who had the idea and why. I do not see the Russian trace in these points - I mean the Donetsk regional administration and the building of the SBU in Lugansk. I have not visited Slavyansk and Kramatorsk, I did not have time. So what about these cities can not say anything.
- Who are these ordinary people who seized the SBU in Lugansk?
- Valery Bolotov - he has a small business, his wife and children are left at home. His friend Igor helps him. After they closed their comrades with whom they organized rallies in Luhansk, the guys decided to seize the building of the SBU. Pierced inside, put on the form that was inside, and took the weapon. Now a whole team of armed guys has gathered there. But the man with the weapon from the building is not released. If someone goes outside, he is obliged to hand over weapons. Until now, all the weapons that were inside the building, they have a list.
- I communicated with the person who all this time was inside the SBU. According to him, the activists who seized the building of the Security Service of Ukraine in Lugansk - paratroopers, "Afghans", Chernobyl victims, special forces.
- Yes that's right. There are "Afghans", Chernobyl victims, retired military from Kharkov and Zaporozhye. There are former special forces. But the leadership there is non-professional military.
- Now we can predict how the situation will develop in the south-east in the near future?
- The army of Ukraine can still fill with blood the south-east. This may be a battalion recruited from the radicals. There may be some other units. With the "Right Sector" the current government also wants to work.
- Do the militias have a lot of weapons?
- There is a weapon.
- Looted the local police station?
- Yes. If not a single weapon left the SBU building in Luhansk, the weapon dispersed from the district police stations. Perhaps the militia have any other sources of arms supplies. But I do not know about it.
- Do you think that the Ukrainian Provisional Government doesn't care what they think about them abroad, what does what they do look like?
- This is true. But they are justified, whatever they do. When we were in Kiev, inside the building that was being stormed, my assistants called the authorities to give us reinforcements, rescue people who were with me. So what do you think? We were refused. Then we contacted OSCE representatives. Received the answer: our mission is only to observe.
- How do people live in Ukraine today? They have not lost their jobs, they are paid a salary, retirement?
- Hard to live. The people who are still in the building of the SBU thought that they would sit there for 3 – 5 days, their comrades would be released and the situation would be resolved. But they stayed there much longer. Of course, they worry about their children, wives. They understand that they need to be fed, but there is no money. No money at all. They are men. They need to work. And so everywhere, all over Ukraine.