The SU-24M front-line bombers received new specialized computing subsystems (SVP-24) Gefest. About this news agency
ITAR-TASS
reported in the press service of the Central Military District (CEC).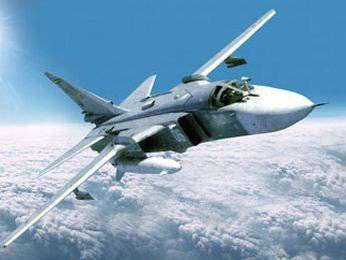 Thanks to Hephaestus, it was possible to reduce annual operating costs by more than 15% and to improve the accuracy of SU-24М aircraft by three times. Evaluation of SVP-24 was carried out on landfills of different climatic zones, in adverse weather conditions with limited visibility.
Earlier, the general director of JSC "Gefest and T" Alexander Panin said portal
Avia Port
:
The SVP-24 can be mounted on L-39, MiG-27, Su-24М, Tu-22М3, Ka-50 / 52 type helicopters.
This is a serial system unified for both Russian Air Force aircraft and helicopters and for foreign aircraft. Aircraft of different types can be improved in the ranks of the bulletin.
This system is specifically designed for the integration of satellite guided munitions and ensures the combat use of the entire existing and future nomenclature.
weapons
including managed. It consists of a ground-based automated complex for the preparation and control of flight missions and an on-board equipment complex connected by a single specialized software.
The system SVP-24 was adopted for use in 2008, and today has various modifications for use by type of media.
If earlier the use of free-fall ammunition limited the ability of the aircraft to maneuver, now there are no such restrictions, and this is a fundamental innovation. The new sighting system for the Su-24M allows you to deliver point bombing in adverse weather conditions on ground targets with the support of ground forces
-
Alexander Panin added
In addition, the crew of the Su-24M can automatically exchange data with other aircraft, and the ground control station was able to automatically control, including the re-targeting of strike groups in real time.