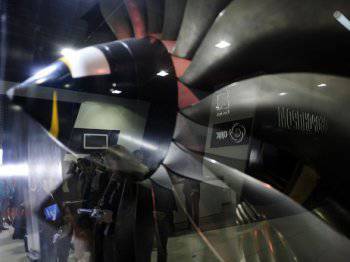 Rostekh
reported that the Moscow Youth Scientific and Practical Conference "Innovation in
aviation
and cosmonautics-2014 "became the venue for the presentation of heat-resistant fiberglass honeycomb core for the PD-14 engine, developed by specialists of Obninsk" Technology ", which is part of the RT-Chemcomposite holding.
The holding specialists have created a honeycomb filler, which will be used in the noise control panels of the PD-14 engine in the area of ​​the gas generator. These areas can heat up to temperatures in 300 degrees Celsius. Due to the chosen combination of materials and manufacturing technology, the life of a new glass fiber substrate, which received the name SSP-7-8T, in such conditions is at least 500 hours. According to the developers, one of the key features of the heat-resistant SSP was the heat-resistant glue BC-10T and the binder SP-97K, selected as a polymer matrix. They allowed to achieve the required strength characteristics at given density values.
The new Russian-made PD-14 engine is designed for the MS-21 advanced aircraft. During its development, the most modern technologies and composite materials were used. Currently, PD-14 is certified by the Aviation Register of the Interstate Aviation Committee in accordance with the Aviation Rules of the AP-33, as well as validated by the European Aviation Safety Agency (EASA).
The presentation of the operating PD-14 was held at the 2014 Moscow International Engine Forum.