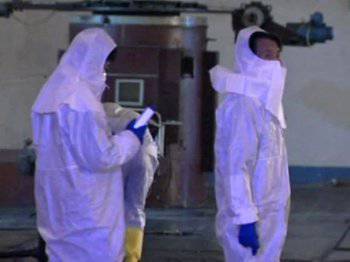 According to the news agency
"Vesti"
it is quite possible that North Korea is preparing to conduct a new nuclear test
weapons
. American experts have published a report from which it follows that suspicious activity was registered at the Punheri nuclear test site.
This assumption is based on satellite imagery. In particular, in one of the photographs one can notice some materials at two exits from the underground tunnels. And in the latest timed image, dated 19 April, the territory of the landfill leaves a large truck.
"Based on the available information, it can be assumed that the activity in Punheri is caused by the early stages of preparation for the test, or Pyongyang has less dangerous designs," the report says.
It is worth noting that the US administration has repeatedly called on Pyongyang to refrain from provocative actions on the territory of the Korean Peninsula. According to the official representative of the State Department, Jen Psaki, they continue to monitor the situation.
Information that the DPRK plans to conduct a nuclear test of a "new type" appeared in late March. Recall that three nuclear tests have already been conducted in the 2006, 2009 and 2013 years. In the first two plutonium charges were used, the type of the last device remained unknown, although experts from South Korea believe that it could be a uranium charge.