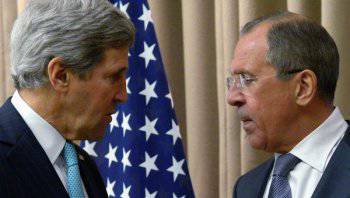 According to the
INTERFAX.RU
, 22 on April, at the initiative of the American side, a telephone conversation took place between US Secretary of State John Kerry and Russian Foreign Minister Sergei Lavrov. Officials discussed the possibilities of international assistance in overcoming the acute Ukrainian crisis.
Lavrov once again stressed the "need for urgent action by the current Kiev authorities" on the faithful implementation of the Geneva accords signed on April 17. In particular, the abolition of orders on the use of army units against the civilian population, the disarmament of militants of the Right Sector, the cessation of persecution of activists of the south-eastern regions.
In turn, Kerry argued that the Kiev authorities reported the necessary steps in this direction, but did not provide any specific facts. In addition, he proposed that Moscow publicly urged members of the protest movement in south-eastern Ukraine to lay down
weapon
, warning that in the absence of progress in implementing the Geneva agreements, sanctions against Russia will become tougher.
Also, the heads of the foreign affairs agencies agreed to continue close interaction on the issues under discussion.
As the
newsru.com
, with a link to
ITAR-TASS
Kerry recently gave a keynote speech at the US State Department. In it, he noted that during the Cold War it was easier than now. "The choice was less diverse, less complicated," explained the politician. - It was brighter, clearer: communism and democracy; East and West; "Iron Curtain", the line of great disengagement. And much was subdued, crushed by this force of the bipolar world. "
According to Kerry, now the world has become "much more complicated." "Among the various challenges that we face today, the world sees an" explosion "of civil strife, religious extremism, radical ideologies, and, frankly, an excessive number of states that have shown or are showing their inconsistency," he added.