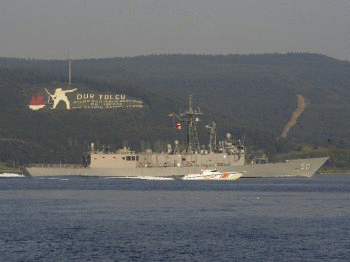 According to the
INTERFAX.RU
On Tuesday, the Taylor frigate of the Oliver Hazard Perry type of the US Navy will enter the Black Sea. According to representatives of the US Navy information service, he will "promote peace and stability in the region," and will also show US allies in NATO that the US Navy continues to "improve interaction with the forces of the alliance in achieving joint goals in this region of the world."
As noted by
newsru.com
, the frigate "Taylor", assigned to a base in Mayport (Florida), had already entered the Black Sea in February. Then he ran aground off the Black Sea coast of Turkey, exceeding the period of legal residence (in accordance with the Montreux International Convention) in the waters of the Black Sea for 11 days. In addition, the 10 of April in the waters of the Black Sea went to the destroyer "Donald Cook", equipped with a missile defense system Aegis.
The main purpose of Oliver Hazard Peri type frigates is to provide air defense and anti-submarine defense of transport convoys, anti-submarine groups and amphibious connections. The Taylor's list of weapons includes two torpedo tubes, an artillery installation, the Harpoon anti-ship missiles, SM-1MR Standard anti-aircraft missiles, and two SH-60 "Sea Hawk" helicopters.