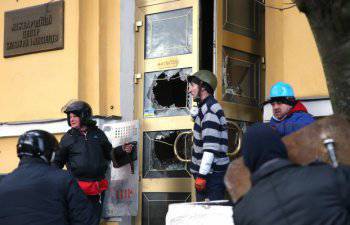 As the
ITAR-TASS
, Assistant Secretary of State for European and Eurasian Affairs Victoria Nuland said in an interview with the American company CNN that the protesters who had seized Kiev buildings had all the necessary permits, including those issued by the authorities.
"You can not compare the situation in Kiev, where everything that is still held by the protesters is held in accordance with the licenses, with the permission of the government, in consultation with the Rada, or if there is an agreement with the owners of the buildings, with what is happening in Eastern Ukraine" - noted Nuland.
Also, the politician said that the Kiev authorities adhere to the Geneva accords. In particular, "a presentation of the draft law on amnesty and" sending representatives to the east of Ukraine to work with the OSCE "took place.
It is worth noting that on Monday Russian Foreign Minister Sergey Lavrov made a statement that the Ukrainian authorities are not fulfilling the Geneva agreements. "The authorities of Kiev do not do anything, they did not lift a finger in order to eliminate the causes that underlie the current deep Ukrainian crisis," the minister argued. "For almost half a year, the Right Sector has been hosting in various cities of the center and west of Ukraine, to extend its influence to the eastern regions, using force.
Lavrov also noted that the buildings captured "by force" have not yet been liberated, the Maidan continues to "flourish", the streets remain blocked. "The leaders appointed by the Verkhovna Rada declare openly that the Geneva agreements on the" Maidan "do not apply, because, you see, the Kiev City Council or the city administration decided that the" Maidan "can be preserved and that it acts legitimately. This is absolutely unacceptable, "the minister added.