Recently, I have been increasingly called upon to respect Ukrainian statehood. Sometimes they even call for respect for Ukrainian democracy.
I am generally a sedate, intelligent man, who understands his social and sexual role, and so on. But when I hear the phrase "Ukrainian democracy" - I have only one desire that arises absolutely, apart from reason, to jump on a stool and for a long, sweet, woman-like scream, lifting up the imaginary skirt of a skirt, as if seeing a sudden rat.
Ukrainian statehood does not cause me any respect. Absolutely. I'm from her, even in horror. I scream from her hunt. And that's why.
Somehow we have already spoken about the role of the Motherland and the people in the organization of human usefulness. I repeat briefly: such a specific phenomenon as a culture cannot be created by small communities like the family or the work collective. Cultures are created by nations. Great cultures are great nations. And only culture, the understanding of good and evil, the ability to distinguish them in all the nuances and circumstances in this culture makes us - full-fledged people. We, our usefulness and our personality are the result of the centuries-old labor of our people in the field of morality.
And precisely by us, by what kind of people we become, we can and must be judged about our Homeland, our people and the state of statehood.
Probably, not everyone understands this, but the state is engaged among its population in the propaganda of the culture that benefits it. That is, by what and how the state does with its citizens, how it educates them, it is possible to judge the state and its goals.
For example, the United States is engaged in the promotion of American values ​​among Americans. Until recently, Hollywood was the most powerful means of this propaganda. If we look at a dozen traditional Hollywood films on teenage subjects, we'll find out that on average it looks like this: there is a main character - a teenager, who everyone is in school, the most beautiful girl does not look at him, and so on. And then he begins to fulfill his duty to America (in camouflage or superhero costume - it does not matter) - and changes his social role. There will still be all the most modern and even promising.
weapon
, father-commander and waving in the wind, star and striped, against which the protagonist in slow motion walks towards a feat in the name of freedom, democracy and the United States.
At this place, dear viewer, you can relax the rolls.
What do we see? We see a citizen whom the US wants to get at the exit, then to send it to some regular Iraq. Because this is exactly what the United States considers important.
Our state was engaged in the education of fellow citizens quite recently. As previously it was thought that the education of the younger generation would be best dealt with by a) the homeless Russian creative intelligentsia, who could not finish settling accounts with this country, and b) the Invisible Hand of the Market.
After receiving the first release of adolescents who were brought up by this method, the state crap from terror and began to rush in trying to acquire cultural policy. It cannot be said that everything is sugar, but nevertheless such things as Smeshariki, We from the Future, Brest Fortress, Legend No. XXUMX, the animated series about the three heroes and so on have appeared. From them, too, one can understand something about what is required of the modern young person from the Russian state: respect for ancestors and
stories
, willingness to conform to ancestors in similar circumstances. He singled out specifically to focus on the fact that this is the quality that, in the opinion of our state, is what we need most now.
Now to Ukraine.
The horror is that the state of Ukraine also led a systematic state activity on the education of young people. And by what they did, you can judge the strategic goals of the state of Ukraine.
And what happened?
For a long time I tried to find some at least more or less decent, pseudo-scientific term that could be called the result of Ukrainian patriotic education. But all I did was "stubborn." As a result of Ukrainian patriotic education, stubborn ones are obtained.
Absolutely irresponsible people with a destroyed cognitive and reflexive mechanism, grazing on the landscape of non-existent facts and in an atmosphere of delusional ideological constructions.
Lev Gumilev said that a nation is a landscape. If this expression is applied to our days, then the nation brought up by the state is an information landscape. Conscious Ukrainian patriots are a nation that exists in a special kind of reality, which has nothing at all to do with the reality of the rest of the world. Not only ours, let them not be deceived.
The state has pumped them with drugs since childhood through television, shows, textbooks and books.
I once brought a T-shirt from Kyiv with an inscription "Sweet Toby, God, I'm not Moskal" (humorous) and the book "Country Moksel" (I also thought at first that I was humorous).
"On," he says, "read what people live in Ukraine."
I read it all, giggling, and giggled until this fiendish in some kind of historical science did not receive a state award to Ukraine.
Or here is the answer of the deputy of the Verkhovna Rada to the use of the term "Novorossiya" by V. V. Putin:
A Ukrainian who wishes to become a patriot of the modern Ukrainian state should allow himself to be immersed in the mythological world with an alternative history, alternative factology, non-existent nations, live it all, become like this world and mutate inside it into a Ukrainian patriot.
What, it would seem, from this trouble? Let yourself?
The problem is that such an upturned consciousness is absolutely incompatible with any positive creative activity. Everything that a patriot of the current Ukrainian state does is not viable and does not work. Because he creates something that should work in his world filled with magical essences like "Cossack spirit", "Lycer Europeanism" and "sich democracy", and there is nothing like this in the world, it has not been and never will be.
And if everything that the Russians would do, turns out to be similar to a Kalashnikov assault rifle, then whatever the Ukrainian patriots do, it always ends with Maidan. That is, a carefully organized mess that is viewed as stupid as a tool for managing complex processes. In this sense, the Maidan is the pinnacle of Ukrainian patriotic uproarness. So, for example, there is a "maidan of the iniquitous right" (MaidanoMID), who recently developed a training manual for the army of Ukraine on how to win (along with Novorossia, it's Ukrainian Southeast).
I quote: "The current state of the Armed Forces of Ukraine does not allow for guaranteed protection of the territory of Ukraine at the same time in all threatening areas of potential armed aggression. In this regard, it is necessary, at the expense of the most combat ready units, to form two groups of ground forces (scale up to the corps) with all the necessary forces and means of reinforcement and logistics in the two most threatening areas (Kharkiv and Lugansk). The task of these groupings of troops is the decisive infliction of fire destruction on the first echelon of the enemy troops at the time they cross the state border, as well as on its second echelon in the areas of concentration on the territory of Russia. "
I translate: our army is not capable, so we will win.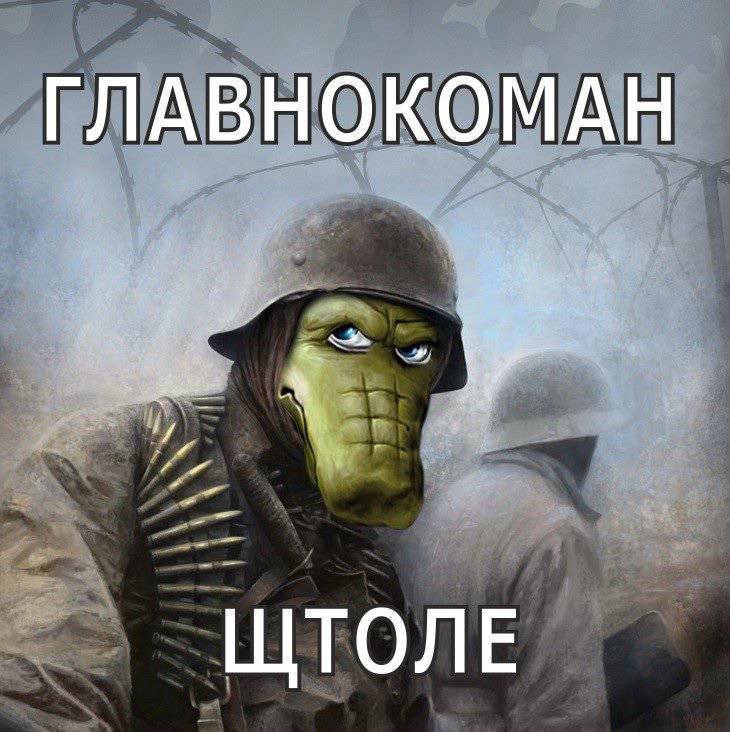 Another ukropatriot tells on its website about the horrors that Ukrainians are coming under the Russian occupation, arguing their claims about the hallucinations obtained under the substances acquired and consumed without prescriptions.
Quote: "The Russians are completely unable to fight, because they prefer drunkenness to the study of martial arts. Therefore, they are fighting with terrible victims both among their own and among the civilian population. Zhukov, who sent them with cuttings from shovels instead of guns and bricks instead of grenades to German machine guns, they still consider it a great commander and a brilliant strategist ... If you have female children from 13 years old, it is better to take them out of the occupation zone. Russian soldiers are rapists. Women and children are raped, they are usually drunk and mobbed, then killed or intimidated ... .. If there are rebels in your village, there will be a sweep, during which everyone will be indiscriminately killed, even pregnant women and babies .... Another danger waiting for people who fell under the Russian occupation - death squads. These squadrons make the Russian invaders more terrible than the Nazis. The Germans have never had anything like this, the Russians practice it in all the occupied territories ... Death squads in the occupied territories appear right after the entrance of the Russian troops. First, people disloyal to the invaders disappear, because potentially disloyal, and then those who have come to denounce or who have looked askance at the occupier, simply speaking, everything disappears. "
All this is possible thanks to unprecedented success in the reform of education:
"By the way, about the feds ... Are you against federalization?

- Of course, this is separatism.

- Well, listen, Germany is a federal country, the United States, Russia, Switzerland, Britain - in fact. And nothing, live.

- USA?

- Of course. United States of America. A state is a state.

- Yes, no, what federation ... I do not want the border between Odessa and Kiev to be, with customs there, visas ...

"Wait, there's no customs between Arizona and Nevada." Between Bavaria and Westphalia too.

- So, this is not a federation.

- What is a federation?

- Well, this ... Well, as in Africa, everywhere their own state.

- Is Africa a Federation?

- Probably…"
I would especially like to mention such an instrument of education as the pantheon of heroes.
With us, this is not all right, I admit. When one hero of Russia wets another hero of Russia in Moscow due to the fact that he had previously soaked another hero of Russia on the orders of another hero of Russia, you involuntarily strain yourself. But in the end, these harsh guys used to serve Russia with blood and cruelty, which no one could serve. Yes, and the pantheon is not one of them. There are also Pskov paratroopers, there is Ushakov, there are scientists, poets, heroes, warriors, devotees, moralists, writers, philosophers, composers.
When the pantheon consists of Mazepa, Shukhevych and Bandera, and Sheptytsky is presented as an ascetic, then nothing will help you.
In short, it is impossible to do at least something meaningful with your country and life, being brought up by a Ukrainian patriot in the past two decades. Ukraine is a system for converting a person's creative forces into a metaphysical maidan.
And no one can look at it indifferently.
Some may say that this is probably not all Ukrainian patriots, there must be somewhere normal !! I answer: no. There are no normal Ukrainian patriots who would not become Russian patriots. If they do not become - they are all stubborn. Simply, there are those who push up to the complete departure of the roof, and someone to half. Someone in his upravosti angry and aggressive, and someone fell into a blissful state, close to euphoria.
The network has a reserve of supertypic modern Ukrainian patriots. Take a look. There are all uporotyh. There is no one who would be in himself even approximately.
All the uneasy patriots of Ukraine are among us, Muscovites.
And you know what's the worst thing? This is all made of normal people. That is, of us possible.
The question arises: How did it happen? Why should the state make of its citizens who could do something useful, irresponsible human-like oysters?
Everything is very simple. That was precisely the goal of the state of Ukraine that existed 23, and its national idea. That is, to become a non-Russian at any cost. Since any more or less healthy state of culture and consciousness leads to Russia and Russians, there remains only one means - to give citizens injections of thermonuclear idiocy and keep them in a bad condition. And this is all just to not allow them to be Russian, or at least just to cooperate with the Russian.
Therefore, when people ask me about respect for Ukrainian statehood, I reply that I do not respect it. Because there is nothing to respect suicides.
PS At the time of this writing, I was overtaken by another eruption of national Ukrainian thought - the concept of Ukrainian-centrism. I translate: this is a concept in which the periphery of Ukraine is considered as the center of the world. The author of the concept claims that this is the salvation and prosperity of the state.
You know, it is difficult for me even to tell you in general terms what my facial expression is now. Mimic nuances do not have names in human languages.