6 thousands of nautical miles to go through the training ship "Smolny", which today came out of Kronstadt. The tasks of the ship's command include conducting practical classes with more than 300 cadets from various educational institutions of the Ministry of Defense of the Russian Federation. On the release of "Smolny" in the long march reports
Ministry of Defence
.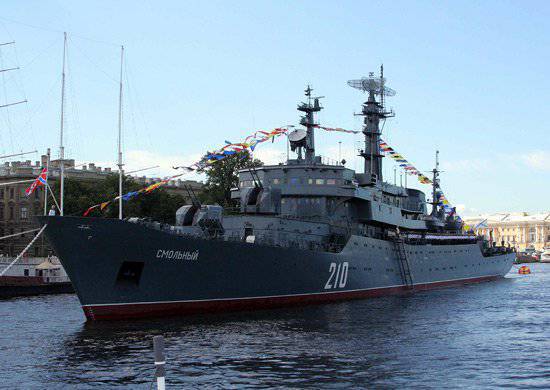 The cadets who will work out the navigational skills as well as the skills of controlling the ship represent the 5 educational institutions of the Russian Federation at once: Kirov Naval Academy, Kirov Pacific Naval Institute, Admiral Makarov Far East, St. Petersburg Military Institute, St. Petersburg Peter the Great Naval Institute, Baltic Ushakov Naval Institute.
During its long voyage, the training ship must leave the Baltic Sea to the North, cross the English Channel, enter the Mediterranean Sea. The final point of the route before returning home is the port of the capital of Algeria.
Within a month, the cadet-sailors will have to undergo practical training in navigational disciplines, acquire skills in controlling the ship in various climatic conditions and difficult navigation conditions. The total duration of the hike is more than a month.
For reference: the Smolny ship is a training ship of the 1 rank, built according to the 887 project in the period from 1976 to 1978 year in Polish shipyards. Crew - 12 officers, 120 sailors, up to 30 teachers and up to 300 cadets. Autonomy - up to 40 days. Exactly so much and planned to "Smolny" in the campaign.