At the opening of the EYF (Eurasian Youth Forum) in Yekaterinburg, the Secretary General of the CSTO Nikolay Bordyuzha said that today not only informational attacks are directed at Russia in connection with events in Ukraine, but also attacks that are quite "tangible". According to Nikolai Bordyuzha, they are trying to transfer fighters from the Right Sector to the territory of the Russian Federation. The words of the head of the Collective Security Treaty Organization are published on
CSTO website
.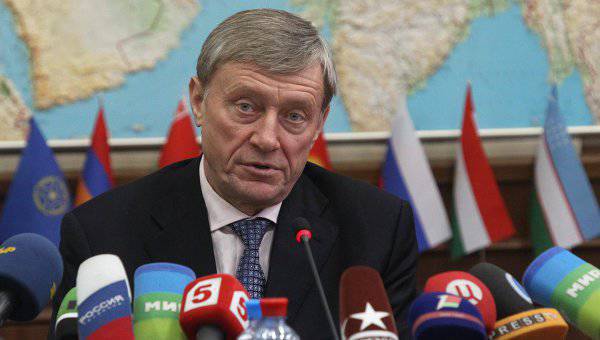 It is reported that, thanks to the actions of the FSB of Russia, three militants from the "Right Sector" in the Republic of Kalmykia and the Rostov Region were detained. In the course of operational work, it became clear that the task for the militants was set as follows: collecting data on the movements of Russian military equipment and military units.
Nikolay Bordyuzha noted that all the years of the existence of the Commonwealth of Independent States, Ukraine was not a full member of this association.
N. Bordyuzha:
Ukraine was moving away from the possibility of collectively addressing security issues.
According to the CSTO Secretary General, the current Ukrainian events are aimed at splitting the Slavic states and the final breaking of ties between Ukraine and the CIS.
For reference: 19 March 2014 of the Year in the National Security and Defense Council of Ukraine decided to withdraw from the CIS countries. In fact, Ukraine has never legally been a member of the CIS, because it has not ratified its charter.