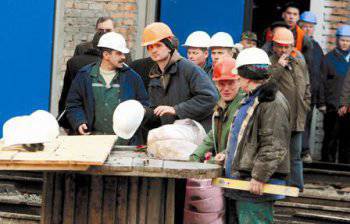 RBC Ukraine
published an interview with the head of the Institute for Media Modeling and Political and Economic Analysis "Perspective", Yevgeny Chernenko, in which he shared his vision of ways for Ukraine to emerge from a deep economic crisis. According to the expert, first of all it is necessary to develop domestic production, which not only fills the budget, but also solves the problem of employment.
Chernenko noted that foreign loans, on which the Ukrainian government is counting on, are undoubtedly necessary. But, in his opinion, this is only an "ambulance" for an economy that is in a critical condition, and for its "recovery" internal resources will be needed, primarily production ones.
"The pace of economic development of any country is directly related to the development of production and industry. Our production is falling. Accordingly, the economy is falling. You can reverse this trend by addressing the problems of the domestic industry as soon as possible. We need state programs, we need credit funds for industrial enterprises. And we need initiative people who understand the importance of the problem and are ready to solve it, "said the expert," Let's say Vitali Klitschko raised the problem of the development of enterprises of the military-industrial complex. "
According to Chernenko, if the Klitschko initiative is supported by adopting a program for the development of defense industry enterprises, this will be a powerful impetus for economic growth.