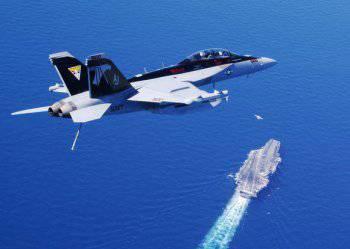 According to the
"Military Parity"
, with a link to
fool.com
, Boeing representatives say that the characteristics of the deck aircraft EW EA-18G Growler are higher than those of the fifth-generation fighter F-35 Lightning II, which was awarded the title of "technological masterpiece" in countering new threats in all ranges of the electromagnetic spectrum.
But it seems that this is just a ploy for lawmakers to convince them to purchase more EA-22G Growler 18 units for the US Navy before the 2015 year. It is worth noting that if the additional contract is not signed, then Boeing may have to close production in Missouri.
According to the company's specialists, to fully perform combat missions, especially in the "early days of the war," F-35 fighters will need support from EW aircraft. Otherwise they will be vulnerable to detection by the enemy. The Boeing is confident that at the moment the development of radar technologies is beginning to outpace the development of stealth technologies. In addition, it is noted that China and Russia are developing and using variable frequency radars, infrared sensors, as well as network radars that can detect stealth targets.
In turn, a representative of Lockheed Michael Rein said that "the stealth capabilities of the F-35 are unprecedented in the military
aviation
. A comprehensive analysis of the combat survivability of the F-35, combined with stealth, advanced sensors, data merging technology, sophisticated electronic countermeasures, showed that it has undeniable advantages over other modern aircraft. " In other words, Lockheed believes that the Boeing wants to mislead legislators.