Ballistic missile RS-24 - replacement for Topol and Stiletto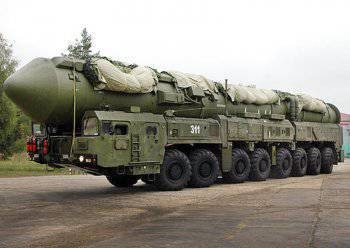 According to the
"NVO"
On Monday, a test launch of an intercontinental ballistic missile (ICBM) RS-24 Yars with a split head was held. The mobile launcher of the joint combat crew of the Aerospace Defense Forces (VVKO) and the Strategic Missile Forces (RVSN) participated in the tests.
According to the representative of the Office of the Press Service and Information of the Ministry of Defense on the Strategic Missile Forces Colonel Igor Yegorov, the main task of the launch was "confirmation of the reliability of the party of missiles".
The PC-24 ballistic missile will be a replacement for the outdated PCB-18 "Stilet" and PC-12 "Topol" ICBMs. In addition, in the 2014, the flight test launches of the new solid-propellant ballistic missile, called the PC-26, which is based on the PC-24, will take place. It is planned that in 2015, the mobile rocket complex equipped with this novelty will be on combat duty.
It should be noted that in the 2018-2020 years, the strategic rocket complex Sarmat should be put into service, which will be a substitute for the complex with the PC-20B Voyevoda. Its firing range exceeds 11 thousands of kilometers.
The rate of development and supply of new weapons to military units is determined by the State Weapons Program on 2011-2020 of the year. Its implementation means that Russia will no longer need the services of the Kharkov NPO Electropribor and the Dnepropetrovsk Yuzhnoye design bureau.
http://militaryrussia.ru/