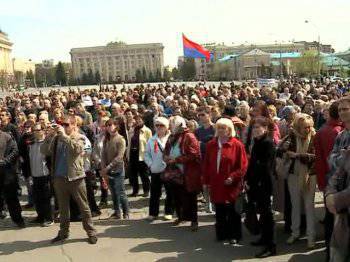 According to the information agency
"Vesti"
, in the center of Kharkov, a rally of supporters of the federalization of Ukraine was held, at which the people's governor was elected. They became Kharkov Vladimir Varshavsky. In addition, the participants of the Kharkov gathering demanded the dismissal of the head of the Kharkiv region, appointed by Kiev.
Also, pro-Russian activists talked about the need to intensify actions to conduct a referendum. According to
ITAR-TASS
Denis Levin, a member of the coordinating council of the Southeast movement, believes that this is "one of the ways to restore legality in the country."
According to the
rusvesna.su
On the same day, a congress of representatives of people's assemblies was held in Lugansk, at which Governor Valery Bolotov was elected, and an independent People's Republic was proclaimed.
After his election, Bolotov answered questions from journalists. He announced the creation of a joint headquarters and units of the Army of the Southeast. The issue of the illegality of restricting the entry of men from Russia into the territory of Ukraine was also discussed.
In addition, the people's governor of the Luhansk region is going to take control of the police and the courts. "Re-subordination of all power structures of the region, in particular the courts and the Ministry of Internal Affairs, will be carried out only legally. Lugansk people's power will act together with other southeastern regions of Ukraine, "he stressed.
It is worth recalling that rallies in support of federalization have been held in eastern Ukraine since March of this year. The first were Donetsk, Lugansk and Kharkov, and later several more cities in the Donetsk region joined the protests. The Ukrainian authorities responded with a special operation involving the army.