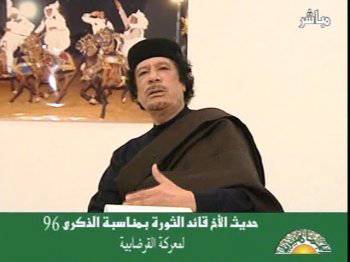 Libya is in a state of war with Italy, said Libyan leader Muammar Gaddafi on state television. "The Libyan people want war, and I cannot prevent it. We are already at war with Italy, because the Italians kill our children in 2011, as in 1911. Therefore, I cannot forbid Libyans to protect their lives and land and move military operations to the territory the enemy, "said Gaddafi, accusing Italy of" new colonialism. "
"My friend Silvio Berlusconi committed a crime by deciding to participate in the bombing of Libya," the colonel added. "We wanted to turn that hated page into
stories
our relationship. But instead of joy and celebration of the end of this period (colonialism), today we are facing a new colonization by Italy, "said Gaddafi.
Italy managed to close the history of Libya's 30-year colonization after 3 concluded the "Friendship Treaty" a year ago, signed by Gaddafi and Prime Minister Silvio Berlusconi. This document provided for major Italian investments in Libya as a "compensation", as well as the admission of Italian companies to the Libyan mining sector. Currently, the contract is officially suspended. Rome supported and actually recognized the Libyan Transitional National Council (PNC) and participates in the operations of the international coalition in Libya.