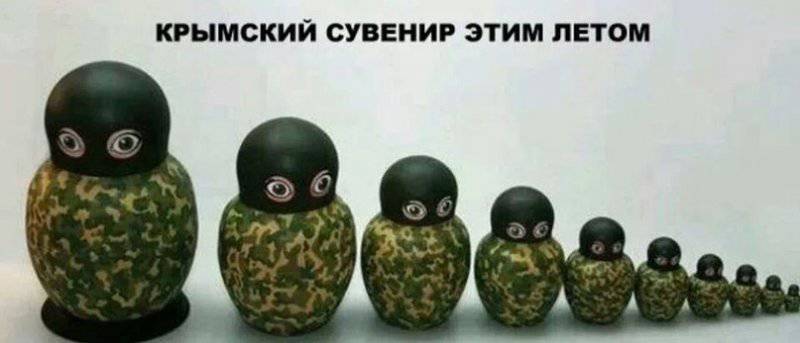 The brand "polite people", which, as reported by the media, intends to register "Voentorg", is only a formalization of the image and meme spontaneously formed in the mass consciousness, supported, however, by appropriate attributes and reinforced by the current agenda. The "polite people" brand (exactly as a brand) was not planned, and now work with it is conducted after the fact. Marketers in this regard will be reproached for lack of strategy, politicians will divorce the brand when they say the word, but the last word is again for the military, who actually added to and expanded the associative array and symbolic set of Russia.
Now "polite people" can dilute and even noticeably press standard and nominal characters like matryoshka and vodka
To ignore the appearance of such a powerful image would be a serious mistake, because for the first time a new national brand is associated with real positive content and has a different form in a literal and figurative sense. "Polite people" is not a marketing and public relations dummy, the brand is filled with positive meanings and emotions for us. Even in the world, despite all the ambiguity of perception and attitude towards Russia, "polite people" cause restrained respect, even fear, but not ridicule and contempt.
Russia with the help of "polite people" can close the void projection of its power that has formed after the collapse of the USSR; the United States (in the media and mass dimension) has "aircraft carriers", "cruise missiles", "seals", "commandos", etc. Russia can add to "missiles" and "polite people" and in terms of content, it is able to serve as a good support and enhancer for other army brands, such as, for example, Kalashnikov or Uralvagonzavod.
It is not by chance that "polite people" were carefully perceived in society as a kind of rebranding of the Russian army.
But to extract image benefits from "polite people", which by the way, by Western standards, would be taken for granted, it is possible only if the brand is developed into a full-fledged system with its consistent promotion and application. The brand "polite people" should be used not only in the political sphere, but also in the social and consumer dimension. Otherwise, "polite people" will face the fate of one-day brands.