Terrorist attacks in Iraq: 18 killed, 50 injured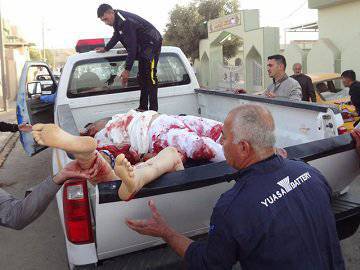 According to the information agency
"Vesti"
, 20 April, a series of terrorist acts were committed on the territory of Iraq, as a result of which 18 people died. Another 50 injured varying degrees of severity.
In the city of Samawah, located in 280 km southeast of Baghdad, two cars exploded with explosives. According to the police, 7 people died as a result, 17 were injured.
Additionally,
ITAR-TASS
reports an explosion at a private Shiite college in Baghdad, which resulted in four police officers and one teacher. 18 people were injured. An explosive device was activated by a suicide bomber. Immediately after the explosion, three militants broke into the school and were eliminated.
Another terrorist attack was committed in the city of Iskander. The explosion of the car killed three people, another 12 injured. To date, none of the well-known terrorist groups in the region has claimed responsibility for the attacks.
According to the UN, in March 2014, 592 people died in the territory of Iraq because of the terrorist attacks, 1234 people suffered. The number of dead 484 civilians and 108 security officers. The victims were 1104 civilians and 130 representatives of the security forces. So far, the Iraqi authorities have failed to normalize the situation: attacks and explosions carried out by militants of various groups occur almost daily.