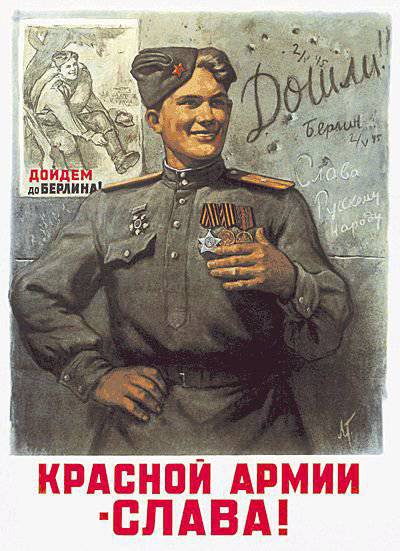 Soon comes the great holiday - Victory Day!
For us, this holiday is of great importance. But some statesmen of the Baltic countries are trying to humiliate our veterans, demolishing monuments to our soldiers, trying to trample our Victory in the dirt.
I believe that we, the grandchildren of the glorious Soviet soldiers, should remind these figures of our great holiday - Victory Day! To do this: on certain days (Lithuania - May 5, Latvia - May 6, Estonia - May 7) send the following persons to the e-mail addresses of each of the figures (Happy Victory Day - May 9). It seems to me that our grandparents would be proud of us for such an act. Let's remind them all about our great holiday!
Lithuania (5 May)
President
Advisor to the President of the Republic No. 1 -
[email protected]
Advisor to the President of the Republic No. 2 -
[email protected]
Education and culture
Chief Adviser to the President of the Republic -
[email protected]
Advisor to the President of the Republic No. 1 -
[email protected]
Advisor to the President of the Republic No. 2 -
[email protected]
Advisor to the President of the Republic No. 3 -
[email protected]
National security
Advisor to the President of the Republic No. 1 -
[email protected]
Advisor to the President of the Republic No. 2 -
[email protected]
Senior Specialist -
[email protected]
Foreign policy
Senior Advisor to the President of the Republic -
[email protected]
Senior Advisor -
[email protected]
Advisor to the President of the Republic -
[email protected]
Advisor to the President of the Republic -
[email protected]
Social Policy and Economics
Chief Adviser to the President of the Republic -
[email protected]
Advisor to the President of the Republic No. 1 -
[email protected]
Advisor to the President of the Republic No. 2 -
[email protected]
Advisor to the President of the Republic No. 3 -
[email protected]
Advisor to the President of the Republic No. 4 -
[email protected]
Advisor to the President of the Republic No. 5 -
[email protected]
Advisor to the President of the Republic No. 6 -
[email protected]
Latvia (6 May)
Head of the Office of the President of the country -
[email protected]
Deputy Head of the Office of the President of the country -
[email protected]
Press Service of the President of Latvia -
[email protected]
Advisor to the President on Foreign Affairs -
[email protected]
Under the management of public projects -
[email protected]
Legislation -
[email protected]
Advisor to the President on communication with the press -
[email protected]
Estonia (7 May)
Government -
[email protected]
Department of Public Relations -
[email protected]
State Court -
[email protected]
Ministry of Defense of Estonia, press officer -
[email protected]