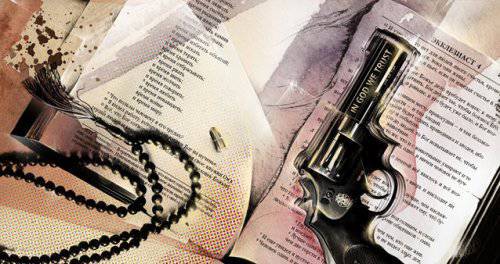 "God created people, and Colonel Colt equated them with rights"
At one time, I was filling up with all sorts of shooting glands, and therefore catch me in a romantic attachment to
arms
no way. What, however, does not affect my desire to at least partially control the situation. Otherwise it does not work: I have children, I am a citizen and a believer. If I understand that the only way to save a child from Evsyukov's bullet is to take his brain out of the TT, I should be able to do it. I firmly realize that I will immediately appear before a criminal, civil and, most importantly, ecclesiastical court, but the child must survive.
I allowed myself this emotional preamble to draw your attention to the outright sabotage by people's representatives of the question of the right of their voters to defend themselves, the right of citizens to have a normal automatic weapon. One gets the feeling that the deputies are afraid of a fair reprisal of themselves or consider their own voters uncontrollable scum, devoid of any norms of morality and ethics. If this is so, then our civic duty is to warn higher organizations about the internal enemy in the State Duma. If the higher organizations do not pay due attention to this, then it should be reasonable to assume that the President is in danger and to resolve this issue independently.
Frequent mention in the press of "crazed" owners of traumatic weapons. It is clear to the Samarkand donkey that "here it is like this" does not happen, as it used to be the same before, but the press was less interested. Why did feathers suddenly get alarmed? Al informational reasons a little? Or "from above" ordered to punch? Prepare to tighten supervision and issuance of traumatic and smooth-bore? It may be right, but the people around me for the most part have such a weapon for many years and do not indulge. Someone saved the life of a weapon, someone with a weapon twice after buying into a tin can at a dump shot. But so that with dope ... Dismiss!
It is not necessary to tighten anything, it is necessary to facilitate, as in 100, so adored by the liberals of the United States years ago. Only it is necessary to start the whole procedure of registration through the military registration and enlistment offices. At the same time, and with the combat reserve statistics will be clarified. Russia-your mother defended? Get the paper. Go to the store and buy "Kalash with two zinc" legally.
With regards to the madmen and "Batman," putin "enchanted," it is as a force of nature. Silver-encrusted collection browning for ugliness is usually not required. The most terrible weapon is a piece of glass in a drunken brawl, and of course a kitchen knife, of course, for a homemade "dismemberment".
And in fact, in this regard, I see one conclusion: people are disarmed - see, default is on the way, fear is "up above", ferments, "who is for Putin, who is for Medvedev?" And other ambiguities.
As a staunch "sovereign", I personally do not see much difference, but with the stubbornness of an idiot I continue to insist on my right to be able to protect a family with a smart weapon in their hands during a hypothetical unrest.