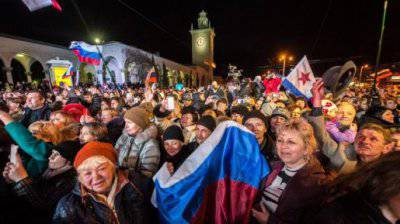 Neil Clark - columnist for The Guardian, Morning Star, Daily Express and many other newspapers - published an article about double standards and contradictions in the position of the West. The author is concerned about the issues why, supporting the Maidan, Western politicians do not honor their attention with the protests in Europe, and the bloody invasion of Iraq, in their opinion, is more democratic than the referendum in Crimea.
I'm confused. A few weeks ago we were told in the West that people who occupied government buildings in Ukraine are good. These people, told us by our political leaders and media commentators,
"Protest for democracy"
. The US government warned the Ukrainian authorities against using force against these
"Democratic protesters"
- even if, as we have seen, some of them are neo-Nazis, who throw "Molotov cocktails" and other objects at the police, smash statues and set fire to buildings.
Now, after only a few weeks, we are told that people who occupied government buildings in Ukraine are not
"Democratic protesters," and "terrorists" or "militants."
Why was it good to seize government buildings in Ukraine in January, and it became very bad in April? Why is the use of force by the authorities against the protesters completely unacceptable in January, but is it acceptable now? I repeat: I'm confused. Anyone explain to me?
In winter, anti-government demonstrators in Ukraine visited some prominent Western politicians, including Senator John McCain and Victoria Nuland from the State Department, who distributed cookies. In recent weeks, major anti-government protests have taken place in many Western European countries. But they did not receive such support either from these people or from observers from the leading Western media. Protesters also did not receive free cookies from US State Department officials.
Probably, if McCain and Nuland so loved anti-government street protests in Europe and saw them as a genuine form of "democracy," would they show solidarity with the demonstrators in Madrid, Rome, Athens, and Paris? I'm confused. Anyone explain to me?
A few weeks ago, I watched an interview with US Secretary of State John Kerry. He said: "You can not just invade another country under a false pretext to defend their interests." But I seem to recall that over the past 20 years, the United States has repeatedly done just that.
Maybe I forgot the statements that Iraq has
weapon
mass destruction? Maybe in 2002 and the beginning of 2003, I had a dream about how politicians and neocon experts appeared every day on television to tell us, mob, that we must fight Iraq because of the threat from the deadly arsenal of Saddam? Why is the democratic vote in the Crimea on reunification with Russia worse than the cruel, bloody invasion of Iraq - the invasion, which killed about a million people? I'm confused. Anyone explain to me?
In addition, Western politicians and media "experts" with a serious look told us that the Crimean referendum is invalid because it was held under the conditions of "military occupation". But I just watched reports on the elections in Afghanistan, which are held under conditions of military occupation. Western leaders, such as NATO chief Anders Fogh Rasmussen, praised them as "
historical
moment for Afghanistan "and the great success of" democracy. " Why is the vote in the Crimea debited and the elections in Afghanistan extolled? I'm confused. Will someone explain to me?
Syria is also very puzzling. We have been told and said that radical Islamist groups are a grave threat to peace, security and our "way of life" in the West. That al-Qaida and other similar groups should be destroyed, that we need to wage an incessant "war on terror" against them. However, in Syria, our leaders sided with such radical groups in their war against a secular government that respects the rights religious minorities, including Christians.
When the bombs of al-Qaeda and its allies explode in Syria and innocent people die, our leaders do not blame it. They only condemn the secular Syrian government, which fights against radical Islamists and whose overthrow is desperately craved by our leaders and media commentators. I'm confused. Anyone explain to me?
And gay rights. We are told that Russia is a very bad and backward country, because it adopted a law prohibiting the promotion of homosexuality among minors. However, our leaders, who have boycotted the Winter Olympics in Sochi because of this law, are visiting the countries of the Persian Gulf, where homosexuals can be jailed and even executed. And they warmly welcome the local rulers, not mentioning the rights of gays.
Perhaps the imprisonment or execution of gays is much worse than a law that prohibits the promotion of homosexuality among minors? Why do our leaders, if they are so genuinely concerned about the rights of homosexuals, attack Russia, and not those countries where gays are jailed or executed? I'm confused. Anyone explain to me?
In numerous newspaper articles we are told that the Hungarian ultranationalist party "Jobbik" is very bad. Her rise causes great concern, although this party is not even represented in the government and is unlikely to be there. However, in Ukraine, neo-Nazis and ultranationalists occupy posts in the new government, which our Western leaders enthusiastically support. In February, neo-Nazis and the ultra-right played a key role in overthrowing the democratically elected government of Ukraine, in a "revolution" that the West welcomed. Why are ultranationalists and ultra-right groups unacceptable in Hungary, but acceptable in Ukraine? I'm confused. Anyone explain to me?
We are told that Russia is an aggressive, imperialist power, and that NATO is worried about countering the Russian "threat". But the other day I looked at the map: I saw that a lot of NATO countries are bordering or are nearby - a US-led military alliance, whose members have been bombed and attacked many countries over the past 15 years. But I didn't see a single country near America that was part of the Russian military alliance; I didn't see Russian military bases or missiles in countries bordering on the States or nearby. And yet we are told that the "aggressor" is Russia. I'm confused. Anyone explain to me?