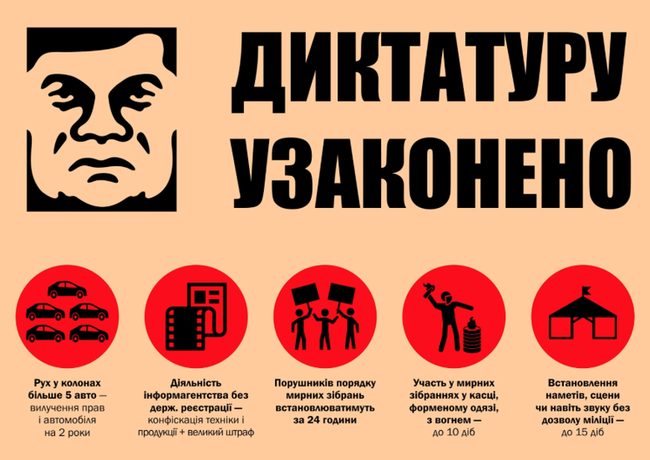 21 February 2014, the Nazi coup defeated the Ukrainian state. In the first hours of the existence of a new "government," seized by the putschists, the Verkhovna Rada accepted such that Ukraine would say goodbye to the status of a legal state for a long time.
A striking example is the "law" 743-18 "On preventing the prosecution and punishment of individuals about the events that took place during the holding of peaceful assemblies, and the recognition of certain laws of Ukraine as invalid."
The name already contains a lie - "a peaceful assembly" on Maidan quickly burned down tires and tortured, shot, killed people. Nevertheless, the "law" requires:
"To exempt from criminal responsibility, in the manner and under the conditions defined by this Law, persons who were participants in mass protests that began on November 21 of 2013 of the year, and are:"
The following are the categories of citizens to whom the "law" applies:
"- suspects or defendants (defendants) of committing from the November 21 of the 2013 year until the entry into force of this Law inclusive of actions that contain signs of criminal offenses under the articles ..."
Below is an impressive list of articles that Maidan members violated with impunity from November 21 to February 22:
109 - Actions aimed at forcibly changing or overthrowing the constitutional order or
to seize state power;
112 - Infringement on the life of a state or public figure;
113 - Diversion;
121, 122, 125 - Intentional bodily harm of all degrees of severity
128 - Severe or moderate bodily injury through negligence;
129 - The threat of murder;
146 - Illegal imprisonment or kidnapping;
147 - Hostage-taking;
151.1 - Placement in a psychiatric institution of a mentally healthy person (!!! - author's comment);
161 - Violation of equality of citizens depending on their racial nationality
or religious beliefs;
162 - Violation of the inviolability of housing;
170 - Obstruction of the legal activities of trade unions, political parties
public organizations;
174 - Forcing to participate in a strike or obstructing participation in a strike;
182 - Violation of privacy;
185 - Theft;
186 - Robbery;
187 - Robbery;
189 - Extortion;
194 - Intentional destruction of or damage to property;
195– The threat of property destruction;
196 - Destruction or damage to property due to negligence;
197.1 - Unauthorized occupation of land and unauthorized construction;
231 - Illegal collection for the purpose of using or using information that is commercial
or bank secrecy;
236 - Violation of environmental safety rules;
239 - Pollution or damage to the earth;
241 - Atmospheric pollution;
255 - Creating a criminal organization;
256 - Assisting members of criminal organizations and hiding their criminal activities;
257 - Banditry;
258 - Terrorist Act;
258.1 - Involvement in a terrorist act;
258.2 - A public call for a terrorist act;
258.3 - Creation of a terrorist group or terrorist organization;
258.4 - Facilitating the implementation of a terrorist act;
258.5 - Terrorist Financing;
259 - Knowingly false notification of a threat to the safety of citizens, destruction or damage to objects
property;
260 - Creation of militarized or armed formations not envisaged by law;
261 - Attack on objects containing objects that constitute an increased danger to the environment;
264 - Careless storage of firearms
weapons
either ammunition;
267 - Violation of rules of conduct with explosive, flammable and corrosive substances or radioactive
materials;
270 - Violation of fire safety requirements established by law;
270.1 - Intentional destruction or damage to housing and communal services;
277 - Damage to railways and vehicles;
279 - Blocking transport communications, as well as the seizure of a transport enterprise;
280 - Forcing a transport worker to fail to perform his or her duties;
286 - Violation of the rules of road safety or vehicle operation by persons driving
vehicle;
289 - Illegal possession of a vehicle;
291 - Violation of transport rules;
293 - Group violation of public order;
294 - Mass riots (including those that led to the death of people);
295 - Calls for actions that threaten public order;
296 - Hooliganism;
304 - The involvement of minors in criminal activities;
325 - Violation of sanitary rules and regulations regarding the prevention of infectious diseases
and mass poisoning;
335 - Evasion of conscription for military service;
336 - Mobilization evasion;
337 - Avoiding military records or special charges;
341 - Capture state or public buildings or structures;
342 - Resistance to the representative of the authorities, law enforcement officer;
343 - Intervention in the activities of a law enforcement officer;
344 - Intervention in the activities of a statesman;
345 - Threat or violence against a law enforcement officer;
346 - Threat or violence against a government or public figure;
347 - Intentional destruction or damage to the property of a law enforcement employee;
348 - Infringement of the life of a law enforcement officer, a member of the public protection team
public order and the state border or soldier;
349 - The seizure of a government official or a law enforcement officer as a hostage;
350 - A threat or violence to an official or citizen who performs a public duty;
351 - Obstruction of the activities of a people's deputy of Ukraine or a deputy of a local council;
352 - Intentionally destroying or damaging the property of an official or citizen
who performs civic duty;
353 - Unauthorized assignment of power or title official person;
355 - Coercion to fulfill or not execute civil law obligations;
356 - Self-Government;
376 - Intervention in the work of the judiciary;
377 - Threat or violence against a judge, people's assessor or jury;
382 - Failure to comply with the court decision;
386 - Obstructing the appearance of a witness, victim, expert, forcing them to refuse to testify or withdraw;
396 - Concealment of crime;
436 - War Propaganda;
Having come to power, the Maidanian junta not only wrote out an indulgence to her supporters, but in fact legalized all their further actions. Carefully read the second paragraph. Those who are exempt from liability are also:
"- by persons who committed actions that may contain signs of criminal offenses under the aforementioned articles of the Criminal Code of Ukraine, provided that the actions of these persons are related to participation in mass protests".
It may seem to an uninitiated person that we are still talking about crimes committed between the November 21 2013 and February 22 2014 years. But it is not so! In this paragraph, nothing is said about the time frame, only about the connection of the unlawful action with the protests on the Maidan. And to become a member of the coup is very easy:
Peremoga! "For this Law, the participation of a person in mass protests is confirmed by her statement to the relevant authority or official."
That is, any violator of the above articles automatically avoids punishment if his crime is connected with Maidan. To do this, you just need to declare yourself a "peaceful rally", and your actions - committed in the name of "revolution". It turns out the murder of Kiev traffic cops, the beating of deputy Tsarev, the beating of the head of the NTU Panteleymonov and other atrocities committed by maydanutyh committed within the law.
Recent
история
knows one such case, marked by the famous phrase: "Soldiers, I release you from the ancient chimera, called conscience to the glory of the Great Reich." This was said by Adolf Hitler before his robber hordes moved to the East. But even Hitler did not think to legitimize lawlessness in his state! In contrast to the Bandera German Nazis, despite all their filth, were statesmen. The Third Reich was a well-organized death machine for others. Ukraine's victorious Maidan is a bloody chaos for itself.
Stop! But what about the "Golden Eagle"? Why do law enforcement officers judge for allegedly committed shooting of "protesters" on Institutskaya Street? Indeed, the "law" does not say from which side a participant of "mass actions" was supposed to be in order to receive an indulgence. The fact is that the fact of participation in the putsch can be taken into account by the investigating authorities and the court. Since the case of "unknown snipers" is a painful point of the new "power", it should be closed as soon as possible, having appointed the guilty. For this, not only common sense is ignored, but also the investigation procedure, as well as the norms of the new "law".
In Ukraine, the fascist formula is fully implemented and legally enshrined: "Everything is for friends, the law is for enemies". This has already generated such a flurry of corruption, from which Ukrainian lawyers are climbing onto the wall. This article appeared due to their competent opinion and desire to give maximum publicity to the whole horror of the lawlessness generated by the Maidan.