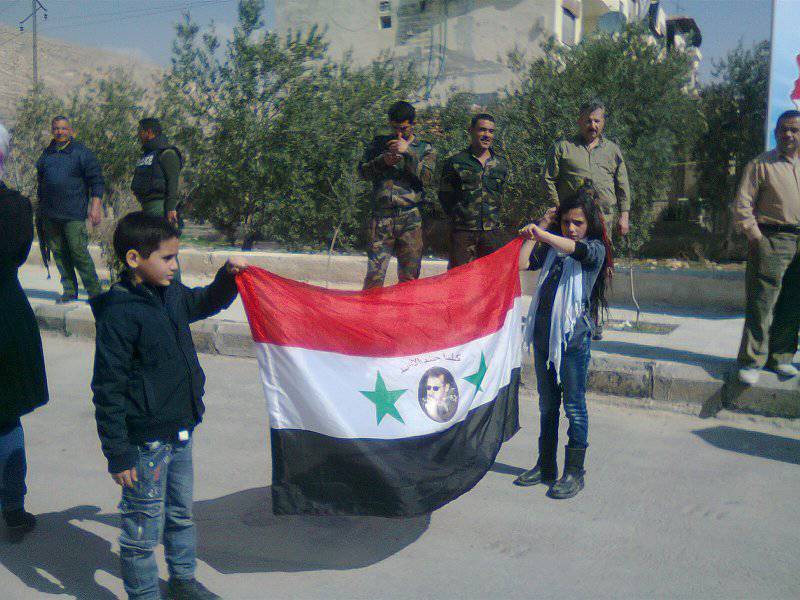 17 April Syria celebrated Independence Day. It was on this day in 1946 that the last French soldier left the country.
Huge demonstrations took place in the city and province of Damascus, as well as in Latakia, Suweida and even in the Golan occupied by Israel. This patriotic holiday was also widely celebrated in the Armed Forces of the country.
But the terrorists have prepared their black "gifts" to the Syrians for the holiday.
In the city of Aleppo, residential areas of Al-Sulaymaniyah, Midan and Meisalun were shelled with rockets. As a result of this barbaric crime, an 21 civilian died, including two children. 80 people were injured, among them there are those who are in critical condition.
In the province of Damascus in the city of Harasta, an "oppositionist" sniper shot at a passing car on the highway, as a result of which one person was killed and three were injured.
8 mortar shells released bandits around the city of Dzharamana province of Damascus. 20 people were injured, caused enormous material damage to residents.
In Damascus itself, Bab Sharqi quarter in the Old City was shelled. One person died, another wounded. A mortar shell also hit a cafe in the Mezze-86 quarter, injuring five people. Among the victims are children.
In Homs, 7 citizens were injured in a terrorist attack on a gas station.
Meanwhile, in the province of Damascus, one of the most dangerous criminals was liquidated, who committed a barbaric crime at the beginning of the crisis, in 2011 year. Then 27 December, Syria was shocked by the tragedy: at the medical faculty of Damascus University in the assembly hall one of the students, Omar Ballyush, opened fire on fellow students. Two young men were killed and several others were injured. The murderer fled the scene. Then he quite naturally showed up in the ranks of the so-called "rebels". Recently destroyed near the village Rankus.
And such "freedom fighters" have been patronized by the United States for several years. So, they contributed to the supply of American anti-tank complexes for gangs in Syria.
This act strongly condemned the Russian Foreign Ministry, stating that these complexes, in any case, could not be delivered to the militants without US consent. This is contrary to the spirit of the peaceful settlement of the Syrian conflict.
For his part, Russian President Vladimir Putin sent a congratulatory telegram to the head of the Syrian state, Bashar Al-Assad, in which he stressed that "strengthening traditional friendly relations and constructive cooperation between Russia and Syria will play an important role in ensuring stability in the Middle East." He wished success to both the president and the people of Syria. In addition, Russian Foreign Minister Sergei Lavrov congratulated Syrian Foreign Minister Walid Al-Muallem on Independence Day.