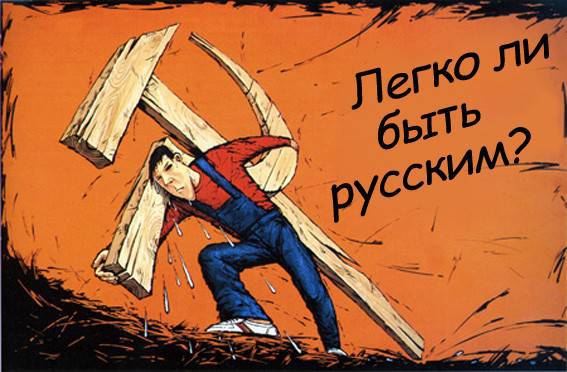 You did not ask yourself the question: why, according to the census of the population in Ukraine, are Russians in total - 17%, and Russian as the main language is used by more than half of the population? What kind of phenomenon is this - "Russian-speaking" Ukrainians?
As a child of three nationalities - Russian, Latvian and Ukrainian, who lived in Russia, Ukraine and Latvia, knowing all three languages, I will try to figure it out.
Ukrainian - per week
To begin with, I'll reveal a secret: you can learn how to understand Ridnu Mova in a couple of weeks. It is enough to remember a hundred words that are very different from Russian. In Ukrainian, the same construction of phrases, the same cases, declensions, conjugations ... Just a certain number of words are distorted, but intuitive, and a small number of words are different. So they need to learn.
For example, who doesn't understand the signage "Store Odyagu" or "Distance"? Just a little need to think about the word "vzuttya" to figure out what it is - "Shoes." But the word "Shkarpetki" will have to remember. I will not translate - "Google" to help you. It is more difficult not to confuse that "garbuz" is "pumpkin", and "watermelon" is "kavun".
I spent my childhood in the Kuban, where Ukrainian words are absorbed in between times. Pobach, poke, pochekay is such a light Little Russian flavor of Russia's southern provinces. When I arrived in Latvia at 12, for the first year I made my friends laugh with "yes you are sho?" And the characteristic letter "g". Then - paralyzed.
The second secret: learning "classically" to speak Ukrainian is more difficult than English. What is the problem: the words of both languages ​​(adverbs) are in ONE dictionary, in one place in the head. To be able to "turn off" Ukrainism in Russian, and Russianism in Ukrainian, you need to train hard. Accidentally sticking a Russian word into English is impossible. And in Ukrainian - easily. And vice versa - Russian can be decorated with Ukrainism in almost any quantity.
How patsak from chatlanina different
The paradox of the country called "Ukraine": with the exception of the blue blood of the Westerners, everyone speaks Russian. Not in the sense that they can speak, but it is SPEAKING - in the family, at work, in the company. And they only switch to Ukrainian when it is NECESSARY.
Such a Kiev party is sitting, according to the passport, all are "Ukrainians", all surnames end in "-ko" or "-yuk", all are "orange" and svidomye (never Donetsk cattle!), And among themselves - in Russian . I sometimes am kidding: "Well, you, shanovni, do you crush me with Katsapsk mine? Hiba, aren't you Ukrainians? "-" Ukrainians, - they answer, - but it's more convenient for us "...
In the east of Ukraine, where you can't even hear the Ukrainian language, where the whole Ukrainian "identity" is the famous fricative "ge", ask who they are by nationality, they will proudly say "Ukrainians!". But they don't even know Ukrainian ... Now even the special term "Russian-speaking Ukrainians" has appeared. Schob you pіdnyalo that gepnulo!
Boys, what are you - "Ukrainians", if - Russian-speaking? It turns out, as in the immortal film "Kin-dza-dza" - how does a patzak differ from chatlanin ":" Is this nationality? "-" No! "-" Biological factor? "-" No! "-" Persons from other planets? " - "No!" - "What then?" - "You, a violinist - are color blind? Can you tell the difference between green and orange? "
How can one distinguish a "Russian-language chatlanin" from a simple Russian "patzak" (katsap)? Only on the "orange point". Truly brilliant Danelia: 30 years ago he even guessed the color of modern chatlan - ORANGE!
Where in Ukraine so many Ukrainians?
The American Gallup Institute in 2008 conducted a survey in which residents of Ukraine were asked to fill out a questionnaire. The blanks were in two languages ​​- Russian and Ukrainian. You will laugh - 83% of the polled citizens of Ukraine chose a questionnaire in RUSSIAN. That is all - on the contrary. Russian on the passport are listed only 17%, and Russian by language were (ts-s-s ...) - 83%. Burned up!
The English have a comic "duck test" ("duck-test"): "If something quacks like a duck, swims like a duck and looks like a duck, then it probably is a duck." I interpret to my Kiev friends that they look like Russians, behave like Russians and quack like Russians ... They are angry and threaten to stuff their faces.
However, such enhanced "non-Russian" is characteristic not only of "Russian-speaking Ukrainians." In the Kuban, I, a visitor, passed "Moskal", and all the locals were "Cossacks"! In Siberia, too, live thoroughbred "Siberians", and not some kind of "Russian lapotniki." I heard that they even had the idea to introduce their own special nationality - "Siberian".
What to go far? If such a national "ma-askwich" had appeared, it would immediately have moved into the 25 millions of the Russian population (the Padmask-dwellers, too). Millions would have enrolled in St. Petersburg seven, they have their own cockroaches ... I'm afraid that if they started introducing additional nationalities in Russia, the Russians would remain only in the Crimea (so that they would not pass to Ukraine again), in my Baltics (to annoy the Latvians ), and even on Brighton (these do not deceive each other).
Search for ten differences
But so far only "Russian-speaking Ukrainians" have been brought along with special nationality. And what to do with it, they still do not know. President Kuchma 10 years wrote a book called "Ukraine - not Russia." I read it, laughed for a long time. The whole book is dedicated to finding differences between Ukrainians and Russians. 560 pages of painful searches!
And what pearls are there: "Russians live more" by concepts ", while Ukrainians mostly prefer law and order ..." The book was published 10 years ago, and all these years Ukrainians showed the world how they "prefer law and order". Showed, schob I shove! But the funny thing is: at the presentation of the book, Kuchma admitted that he wrote in Russian, because he does not know Ukrainian ... Um, just one Russian Ukrainian Ukraine!
Recently, the Ukrainian Internet blew up the good news: scientists have found that Russians have more Finno-Ugric and Tatar haplogroups in their genes than Ukrainians. The difference was in small percentages, but what a joy! Muscovites, it turns out, a rotten cross between Tatars and Finns, and we are real Slavs! Found the same difference!
I thought ... I listened to my own identity for a long time, looked into the mirror ... A tall, slender man in the prime of his life, smart, witty, educated. Personally, I like myself. And the children I failed, all three. I swear, well, unlike the Ukrainians, some "haplogroups" do not hover me, even if there is a Papuan gene to be found.
Speaking of children. In the middle of 90-x registered in the registry office of the people boy. Aunty asks: "What nationality will we indicate?" I begin to reason (speak Latvian): "On 1 / 4 he is Latvian, on 1 / 8 - Russian, on 1 / 8 - Ukrainian, on 1 / 8 - Belarusian ... "Then follow the difficult fractions, in which Poles, Tatars, possible Jews participate (as without them?) ... And I solemnly download:" And on 1 / 64 - French! "(My wife really great-great-grandfather was a Frenchman who stuck 1812 in the year near Smolensk and got accustomed.) Aunty laughs: "This is a purebred Russian!"
Do you want to be Russian - be it
Now from my friends from the east of Ukraine I hear bitter complaints: why does Russia not support us, does not help? Crimea supported, to itself took, and we for it that - strangers?
The guys, but the Crimeans didn't show off, they didn't record themselves into "Russian-speaking Ukrainians". After all, everyone has their own choice. Want to be Ukrainians-take the current Kiev government. Real Ukrainians from Galicia now command there. For them, you are not Ukrainians at all, and they will never accept you into the Ukrainians, whatever you write down in your passports. You are for them - Katsaps in life.
So, I would recommend not digging into "haplogroups", not looking for exactly where "Ukraine is not Russia", not showing off with a special identity, but signing up for normal Russians. This is not a shame. Moreover, the "Russians" are not a nationality at all. The word "Russian" is not a noun, but an adjective, not "who?", But "what?". That people is strong, and that takes all who came to him.
And it has been observed: as soon as any trouble, war, massacre, genocide begins in the world, the number of Russians abruptly arrives. Here and now, it seems, will arrive.