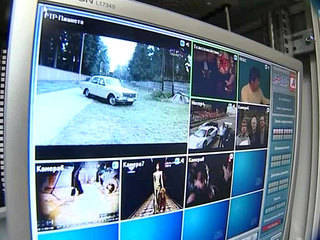 Investigators of the Security Service of Ukraine opened criminal proceedings on the commission of a terrorist act in connection with the seizure of a television tower in Kramatorsk. This was announced at a briefing in Kiev, the head of the press center of the SBU Marina Ostapenko.
It clarifies the "Interfax", the criminal proceedings are open under Article 258 of the Criminal Code of Ukraine. An investigation into the armed attack and capture by unidentified persons in camouflage, with St. George ribbons, TV towers near the Karachun mountain of the city of Kramatorsk, State Enterprise "Concern of Radio Broadcasting, Radio Communication and Television of Ukraine." According to Ostapenko, the people who captured the TV tower independently set up the equipment of the television center for Russian television instead of Ukrainian.
The situation around the TV tower in Kramatorsk remains difficult, it is captured, then released. In the afternoon of April 17, in Kramatorsk, 10 armed men penetrated the territory of the RTGF site and concentrated around the perimeter and access to equipment. Subsequently, they began the delivery of their satellite equipment to receive Russian channels and its installation, simultaneously disconnecting the Ukrainian ones.
Employees of KRRT in Kramatorsk, together with the Security Service of Ukraine, managed to turn off the broadcasting of Russian channels, armed men left the facility. After some time, the radio and television station was again captured by armed men.
The persons who captured the concern's object do not install satellite equipment for the distribution of Russian channels, as it was the day before, but gained access to the transmitters and disconnect the Ukrainian TV channels and turn on the Russian frequencies on the same frequencies.
This radio and television broadcasting center distributes a television signal to Slavyansk, Kramatorsk, Gorlovka and Makeevka.
Earlier, the authorities banned the broadcasting of Russian channels in Ukraine. Over the past weeks, a total of Ukraine programs in Russian have already lost one and a half million cable network subscribers. Meanwhile, the demand for satellite dishes has sharply increased on the radio market. Soon it will be the only way to watch Russian TV.