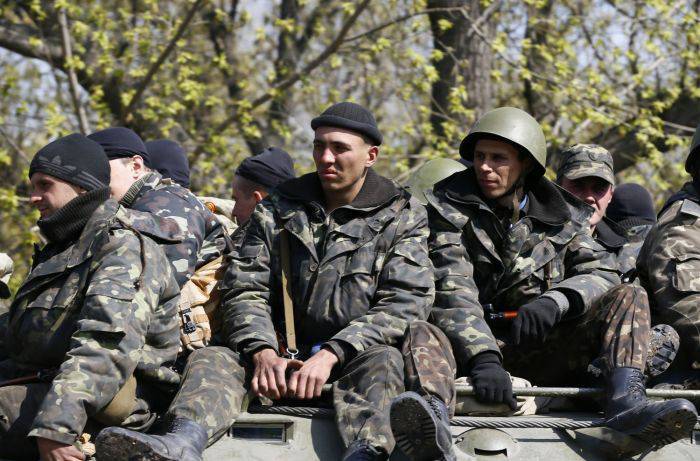 Now many are surprised that the punitive operation against the south of Ukraine, requiring the restoration of law and order in the republic, began less than two months after the coup d'état. They expected that the Kiev criminals would openly destroy those who disagree only after the imitation of the President's election, 25, which was legitimizing their power.
As far as I can judge, the Kiev criminals dragged with a special operation to the last possible opportunity, because not only in chess does the principle work: the threat is stronger than execution. While it was possible to threaten the use of heavy quantities in commodity quantities
weapons
and valiant Ukrainian warriors, who know how to use it, while at least the theoretical possibility of forceful suppression of everything undesirable for the Kiev criminals themselves and their American puppeteers remained - one could hope that someone would really be frightened and, perhaps, even rise under the banner of "independent" Of Ukraine.
But as soon as the real hostilities began, it became clear that the Ukrainian army was sick, as was the state as a whole. Even though there are people there who are ready to kill - and even, perhaps, there are people who are ready to die. But, firstly, there are too few of them to take control of the whole Russian Ukraine at once, and secondly, during the collapse of the state, even those who can and want to shoot, have long forgotten how to do it.
In addition, there is a moral factor. Of course, it looks very beautiful when several men are forced to retreat a tank with one mat, but this is understandable: it only means that the tankers themselves are not at all eager to shoot. By the way, to some extent this is a consequence of the previous inaction of the legitimate Ukrainian authorities headed by President Yanukovych, when for several months in a row people, not only having the right, but also those who are obliged to use force against violent crimes, were persuaded to do nothing, then directly they were forbidden to do what should be done - naturally, now in Ukraine there are not too many people willing to execute the orders of the authorities, whose illegality becomes more obvious every day.
Therefore, to start this massive crime against the country, the people, the law and common sense, the enemy took a long time to sway and decide. Those coups whose organizers were more self-confident began shooting much earlier.
As far as can be judged both by publications and by chronology, even now Kiev criminals are moving solely on a kink, and their representatives of the Washington Regional Committee are kicking. Intelligence chiefs rarely come to those countries where this intelligence has participated in organizing a coup d'état, so that, so to speak, it doesn't shine - but it was necessary to light up here. It's funny that American intelligence could not come up with a plausible explanation of the reasons for the visit of her boss to Ukraine.
So this time the crime began, in my opinion, not early, but it is very late. If these criminals really were confident in their abilities, they would have almost immediately after the coup in Kiev engaged in bringing the south and east of Ukraine to a comfortable look. If they do not do this, it means that they are aware of their powerlessness and have got into a fight only because their owners have demanded this directly.
Why demanded - is known. The United States of America has not been able to rise for a long time - therefore they are trying to lower all the others in order to remain the center of gravity of all world goods. So they organize, as far as the forces remain, fires around all who can still move up on their own. Including about the EU and the Russian Federation.
Well, how will events develop now? There are a lot of options, since neither the degree of frostiness of fanatics from Independence Square, nor the combat skills of both sides are completely indefinable. But I really hope that the residents of the south and east of Ukraine, who risked a revolt, are mostly adult people, with work skills and, to a large extent, with active service experience in the armed forces, so they can imagine at least approximately what to do on either side of the front sight. . If this hope of mine comes true, then for Kiev revolutionaries and their accomplices, the best way out of the situation will be the one to which at one time several well-known figures have resorted, whose surnames in Russian style begin with "G", although in the original - and with a Latin letter "G", and from Latin "H" (Hitler, Goebbels, Himmler, Goering)
If the south and east show the same degree of inability to live and act, which is the current Kiev gang, then (although it is extremely unlikely) I will have to admit that Ukraine is no more and that Wild Field remaining in its place will soon be subject divide by the same method by which the guards at the cross divided the remnants of the clothes of Yeshua Joseph Davidov. This outcome is extremely unlikely, but, unfortunately, even I can not completely exclude it.